Indonesia's air force is holding a large-scale military exercise near some islands in the East Sea, local authorities said on October 4, sources from VNS/Reuters.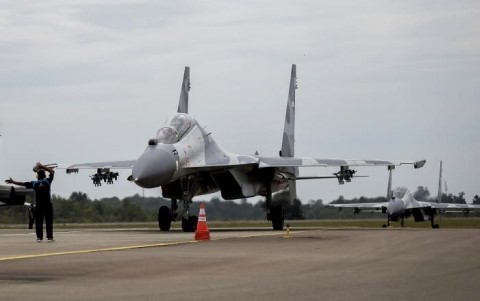 A fighter jet joining the military exercise (Source: Reuters)
More than 2,000 air force personnel are taking part in the two-week long exercise, which includes the deployment of Indonesia's fleet of Russian Sukhoi and F-16 fighter jets, according to Jemi Trisonjaya, spokesman of Indonesia's air force.
The exercise aims to prove that Indonesia has a good enough air force to act as a deterrent, he stressed.
Earlier, President Joko Widodo launched a campaign to bolster fishing, oil exploration, and defense facilities around the country's Natuna archipelago after a series of face-offs between the Indonesian navy and Chinese fishing boats.
China has over-lapping claims over Indonesia's exclusive economic zone around Natuna archipelago. However, its claims were rejected by the Permanent Court of Arbitration (PCA) on July 12.-