On Friday about 100 people from the village closest to Merapi were moved two kilometers (about one mile) away after the volcano started spewing smoke and rumbling.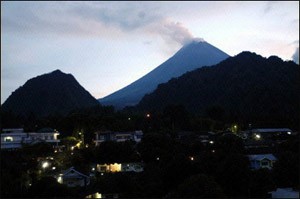 Smoke rises from Mount Merapi (AFP Photo)
"Next week, we plan to begin relocation of children, women and the elderly to the relocation center which we have built since 1995. We have prepared everything," said district chief Sukarno, who only uses one name.
At least 64 people in the village were killed by a cloud of heat when Merapi erupted in 1994, the official said. The eruption also forced 6,000 others to evacuate.
The mountain last spewed smoke and lava in 2001 but there was no major eruption. About 12,000 people live in the area and the relocation center is some six kilometres (about four miles) away.
Sukarno said the first phase of evacuation would also include moving cattle and poultry to safer places.
"We are building emergency cages. We don't want cattle to keep people from relocating," he said.
Vulcanologists placed a "standby" alert status on Merapi last week, one level below that which would trigger an evacuation.
Many people living in the slopes of the 2,914-metre (9,616-foot) volcano have refused to evacuate their villages despite warnings.
Traditional beliefs hold that Merapi will only erupt after certain omens, some of which appear in dreams. Ancient spiritual mythology is still widely practiced in Java island.
Authorities have prepared for an eruption by staging evacuation drills, setting up relief teams, making shelters and stockpiling food and medicine.
Merapi, which has been rumbling intermittently over the past four years, looms above a plain located in the southern area of Central Java province, north of the cultural city of Yogyakarta.
Indonesia sits on the "Pacific Rim of Fire" noted for its volcanic and seismic activity. The country has more than 100 active volcanoes.
In August 1883, the biggest natural phenomenon ever seen on earth took place when, after lying dormant for 300 years, Krakatoa volcano burst to life, showering debris on Java and Sumatra islands and killing about 36,000 people.
The cacophony of the eruption reached Australia and territories located more than 4,000 kilometers (2,500 miles) away, while waves reaching up to 40 metres laid to waste nearby islands and were felt as far away as the English Channel.
Source: AFP