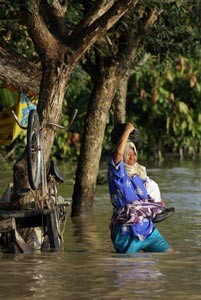 An elderly woman crosses flood water at Arakudo subdistrict in Langsa, East Aceh, Dec. 25, 2006
Indonesian troops and volunteer rescue workers were Tuesday stepping up a massive relief operation to deliver food and supplies to thousands of people stranded by floods that have claimed around 110 lives.
Two years after the Indian Ocean tsunami devastated the province, Aceh was struggling with the new disaster.
Torrential rains over the past week have triggered flash floods and landslides that have forced around 300,000 people to flee their homes on the island of Sumatra, with Aceh and North Sumatra provinces the worst hit.
Whole villages have been swallowed by flood waters, with residents escaping to find refuge on higher ground or trapped on the roofs of their houses.
Some 1,000 troops have joined the relief effort, with the government shipping in 20 tonnes of food, clothes, rubber boats and other supplies using a Hercules transport aircraft.
Technical relief efforts were being coordinated from the North Aceh district capital of Lhoksumawe, about 50 kilometres (30 miles) northwest of Simpangulim.
Rescue workers said they were concentrating on getting supplies to stranded people who were running short of food.
"Today's relief effort is concentrated on supplying food to isolated areas in Gayo Lues, East Aceh and Aceh Tamiang," daily relief effort coordinator Suwarno Amin in Banda Aceh told AFP.
"We will drop dried food and bottled water by helicopters. We are doing the best we can but we can only send limited amounts using airdrops," he said.
Aceh governor Mustafa Abubakar said six helicopters were transporting supplies. A navy warship was already in the area with another on the way, said Abubakar, who is coordinating relief and rescue efforts.
"Relief efforts are starting to be more coordinated. We've started dropping relief supplies from the air in isolated areas," he told AFP.
Aceh has been the worst hit by the floods, with at least 60 killed in Aceh Tamiang district alone and another 17 killed in three other districts, Kompas daily reported.
A further 33 people were killed in neighbouring provinces, including 22 in North Sumatra buried by a landslide triggered by the rains.
Nigia had to leave home on Saturday evening when the water levels suddenly rose, submerging her house in Arakundo village in Aceh.
"I am sad that I have to leave home. I lost my cousin and many other family members during the tsunami," she told AFP.
Her friend Leila said she had no time to gather up any belongings and now had to shelter in a tent shared with other women.