JAKARTA (AFP) – An Indonesian court on Thursday jailed radical Islamist cleric Abu Bakar Bashir for 15 years for funding a terrorist group that was planning attacks against Westerners and political leaders.
The 72-year-old preacher showed little emotion as judge Herri Swantoro read out the guilty verdict and sentence at the end of a four-month trial in the South Jakarta district court.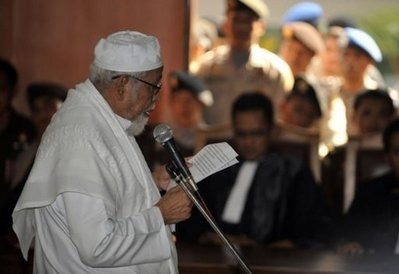 AFP - Islamist cleric Abu Bakar Bashir seen at the court, reading his statement
"Abu Bakar Bashir has been proven guilty of planning and misleading other people to fund terror activities ... and is sentenced to 15 years in jail," the judge said, triggering a gasp from the cleric's supporters in the court.
Draped in his customary white robes and skull-cap, the man seen as the spiritual leader of regional terror network Jemaah Islamiyah immediately promised to appeal the sentence, which he called the work of the devil.
"This is haram (forbidden in Islam). I reject this because it is cruel and disregards Islamic sharia law. This ruling is by the friends of the devil and it is haram for me to accept it," he said in response to the judge.
About 500 radicals erupted into shouts of "Allahu akbar" (God is great) outside the court as the verdict was read. Some 3,000 police backed by armoured vehicles and snipers were on hand in the event of violence.
"This trial was a joke. They haven't looked for the truth, they only want to serve the interests of the current political power," said a spokesman for Bashir's radical organisation, Jemaah Ansharut Tauhid (JAT).
Prosecutors had demanded a 20-year life sentence for Bashir, who was found guilty of channelling about $50,000 to a terrorist cell that was conducting military-style training in Aceh province in 2009.
Police say the so-called Al-Qaeda in Aceh group, which was discovered in February last year, was planning assassinations and Mumbai-style attacks by highly trained suicide gunmen.
Bashir had been facing the death penalty for providing illegal weapons to the group but authorities dropped those charges early in the proceedings. The court also acquitted him of a charge of possessing illegal weapons.