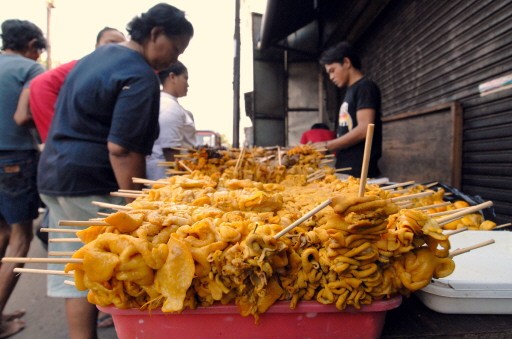 Indonesian mothers line up for traditional chicken fast food for their families in Jakarta 15 October 2006
Indonesian health authorities confirmed Monday that two more people had died of bird flu, bringing the national toll from the H5N1 virus to 54 -- the highest in the world.


Indonesia, the world's fourth most populous nation, trails Viet Nam, which suffered 42 deaths, none of which however occurred this year.
Samples taken from a 67-year-old woman who died overnight and an 11-year-old boy who died two days ago returned positive results from two laboratories, the health ministry said.
Positive results from two Indonesian laboratories mean that the World Health Organization includes the case in its records.
Runizar Rusin, head of the ministry's national bird flu information centre, identified the pair as Mamah Komariah, who had been hospitalised in West Java's Bandung, and Aulia, the boy who died in Jakarta.
Hadi Yusuf, who headed the team of doctors treating Komariah in hospital, said the woman died late Sunday "with complications from the virus affecting all of her organs."
"She had been unconscious for the previous two days," he told AFP.
Yusuf said last week that the woman was also suffering from encephalitis, or inflammation of the brain, believed to be caused by the virus.
He said that if she was confirmed as carrying H5N1, she would be the first case in Indonesia where the virus has attacked the brain. At least one other similar case has been found elsewhere, he said.
The younger victim died at Jakarta's Sulianti Saroso hospital, the country's main facility for treating bird flu patients, after being admitted on Saturday.

The boy had previously been treated for 10 days at another hospital in south Jakarta and health officials said that he had come into contact with poultry, the usual method for transmission of avian influenza.
Indonesia has been criticised for failing to act quickly enough to curb the spread of the virus and is continuing to grapple with serious outbreaks in poultry across its archipelago.
Monday's confirmed results bring the archipelago nation's overall number of cases to 71.
The bird flu centre's Rusin also said that another patient, whose details he did not provide, had returned positive results to an initial test but the results from a second laboratory were not yet available.
Scientists fear that the H5N1 virus may mutate so that it is able to spread easily among humans, leading to a pandemic with a potential death toll of millions.