Insurgents attacked a Somali regional police chief's residence, killing his daughter and two bodyguards, witnesses said Tuesday.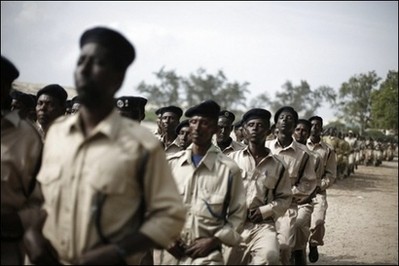 Somali Police march 11 December 2007 during a parade in Mogadishu (Photo: AFP)
They said the residence of Aden Hashi Gabo, the police chief of the provincial town of Baidoa, about 250 miles (150 kilometers) northwest of the capital Mogadishu, came under attack on Monday.

"The insurgents fired machineguns and grenades into his house, killing his daughter and two bodyguards," said Hassan Sheikh Mumin, a resident.

Another neighbor Hussein Ali said fighting raged for about an hour until policemen were sent to reinforce security.

Islamist militants have waged an insurgency mainly in Mogadishu since they were defeated by Ethiopian and Somali forces early this year, ending their brief rule in the country's southern and central regions.

The deadly insurgency has forced hundreds of thousands of people to leave Mogadishu in recent months, according to the United Nations, prompting warnings of an unprecedented humanitarian disaster.

Aid groups have said that insecurity is choking off efforts to deliver humanitarian supplies to those affected.

Numerous bids to restore stability to the Horn of Africa nation since dictator Mohamed Siad Barre was ousted in 1991 have failed because of clan warfare and unrest.