An international conference to take stock of global efforts against avian flu and seek new funds to fight the disease opened Wednesday in Mali.

It is the first international forum on bird flu to be organised in Africa, amid fears the continent, already reputed for its failing facilities, risks becoming a permanent host to the virus that has triggered concerns of a global pandemic.
Some 600 participants have gathered for this fourth annual global conference on bird flu. Wednesday has been devoted to experts' discussions with Thursday set aside for the political side of the pandemic while donors will take up Friday.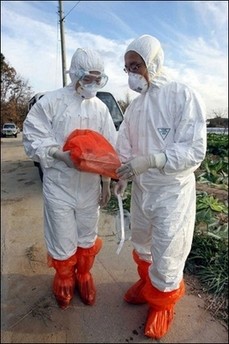 South Korean health officials take samples from a poultry farm hit by bird flu.
Since the last conference in China in January, the H5N1 strain of the bird flu virus, which can be transmitted to humans and is potentially fatal, has spread to more countries since it re-appeared in Asia in late 2003.
It made its debut in Africa in February and has been detected in eight countries -- Nigeria, Egypt, Niger, Cameroon, Burkina Faso, Sudan, Ivory Coast and Djibouti.
Experts fear a mutation of the virus that could be contagious among humans, risking an international pandemic.
More than 150 people have been killed by the virus in the world since 2003 especially in Indonesia and in Vietman, where most of the deaths have been this year.
UN and World Bank experts said in addition to the 1.9 billion dollars (1.4 billion euros) pledged by donors at the last summit in Beijing, up to 1.3 billion dollars in extra funds were necessary, of which about half would go to Africa alone.