Police in six countries have smashed a major international drug ring, arresting 40 people and seizing large quantities of cocaine, ice and ecstasy, Australian police said Thursday.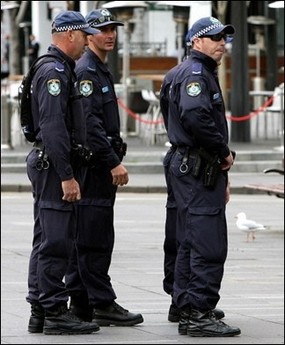 File photo shows police on patrol near Circular Quay on Sydney Harbour (Photo: AFP)
The syndicate was based in Canada and operated in Australia, New Zealand, China, Japan and the United States, said Australian Joint Asian Crime Group Chief Inspector John Lehmann.

The total international haul included 600 kilograms (1,320 pounds) of cocaine, 111 kilograms of ice, 83 kilograms of ecstasy and 1,200 kilograms of materials used to produce ice and ecstasy.

"We're talking about massive quantities of drugs," Lehman told reporters, noting that the operation had put a big dent in the ice and ecstasy trade.

"Basically, the main syndicate heads were based in (Canada) and they were responsible for producing the drugs and exporting them to other parts of the world, including Australia," he said.

Of the total 40 people arrested, 14 Canadian and Australian nationals of Chinese and Vietnamese descent were picked up in Sydney and Melbourne over the past six months.

Lehmann said it was a "very sophisticated operation."

"They were quite ruthless and willing to expend members of their syndicate so that they could keep continuing to import and supply drugs here in Australia."

New South Wales Police Commissioner Andrew Scipione said the seizures would have a significant impact on local drug availability.

"An arrest of the size and scale that we've seen has got to be a good thing for our community," Scipione said. "It's about keeping drugs off the street."