International organisations on Saturday called for a political process to end the conflict in Libya, where the government hit out at NATO's air war.
The Libyan regime headed by Moamer Kadhafi also dismissed rebel denials that the two sides have held talks.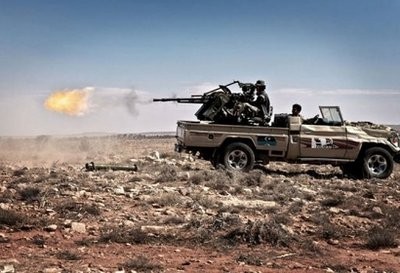 File photo shows Libyan rebels firing a machine gun towards positions held by forces loyal to Moamer Kadhafi in the western Libyan town of Gwalesh
Just after midnight on Sunday (2200 GMT Saturday) a loud explosion was heard in the Libyan capital.
Authorities took journalists to Tripoli's residential district of Arada where they were shown two bodies, said to have been victims of a NATO bombing raid. The reporters also saw four damaged houses.
World organisations including the United Nations, European Union and Arab League met in Cairo to discuss Libya and stressed the need for a political solution there.
They issued a statement in Arabic underlining the importance of "accelerating the launch of a political process that responds to the legitimate aspirations of the Libyan people."
EU foreign policy chief Catherine Ashton attended the meeting along with outgoing Arab League chief Amr Mussa and African Union head Jean Ping, while UN chief Ban Ki-moon joined by live video link.
"Today it's been about how do we make sure that in the work we do that we offer the sort of support that will enable the Libyan people to choose the future that they want," Ashton told reporters.
Ban Ki-moon meanwhile said that the roots of a negotiating process are showing in the Libya conflict.
Following talks with top officials from the European Union, African Union and other groups, Ban stressed the need for the international community to give a "consistent message" on a political solution with Kadhafi but indicated the signs of progress.
On Friday, a defiant Kadhafi said NATO will be defeated and his Prime Minister Baghdadi al-Mahmudi accused the alliance of committing "war crimes and crimes against humanity," claiming raids were hitting civilian targets.
Mahmudi also insisted that regime envoys had engaged in contacts with rebels, as detailed by Russian envoy Mikhail Margelov.
"Ask the Egyptians, French, Norwegians and Tunisians for information. They will tell you the truth," Mahmudi said. "We are sure of our meetings and everything has been recorded."
Margelov said after visiting Tripoli that Kadhafi's regime had forged multiple contacts with the Libyan rebels' National Transitional Council in foreign capitals including Berlin, Paris and Oslo.
But the NTC denied there were any talks.
"I can assure you there is and there was no negotiation between the NTC and the regime," said the council's head of international affairs, Mahmud Jibril.
France also said it had no knowledge of any negotiations. "If there have been direct contacts, we're not involved and we didn't set them up," foreign ministry spokesman Bernard Valero said.
Mahmudi called for "an urgent" UN meeting to examine "crimes committed by NATO against Libyan civilians," and said targets hit by the alliance include a university and a hotel in Tripoli on Friday.
NATO dismissed the claims as "outrageous."
"It is Kadhafi and his regime that have been systematically and brutally attacking the Libyan people," said spokeswoman Oana Lungescu.
The alliance said on Saturday that NATO aircraft accidentally hit a rebel column in the Brega area on Thursday.
"NATO can now confirm that the vehicles hit were part of an opposition patrol," it said in a statement.
"This incident occurred in an area of conflict between Kadhafi forces and opposition forces.
"We regret any possible loss of life or injuries caused by this unfortunate incident," NATO said.
On Friday, rebel spokesman Ahmed Hassan said Kadhafi forces fired Grad rockets into Misrata killing 10 people and wounding 40, all civilians.
The rebels meanwhile took complete control of the strategic road between Zintan and Yafran, an AFP correspondent reported.
In the United States, lawmakers took aim at President Barack Obama over his Libya intervention after The New York Times reported that he had overruled senior government lawyers.
The paper reported that Obama rejected the opinions of Pentagon and Justice Department lawyers who said Washington was engaged in "hostilities" in Libya requiring congressional approval.
"If dropping bombs and firing missiles on military installations are not hostilities, I don't know what is," Republican Bob Corker said in a statement.
Democratic congressman Dennis Kucinich -- a staunch opponent of the US intervention -- said it was "very disturbing" that Obama was proceeding without congressional authorisation despite the lawyers' advice.