ABUJA, Aug 27, 2011 (AFP) - Investigators on Saturday probed a suicide attack at UN headquarters in Nigeria after the bomber managed to penetrate tight security and ram his car into the building, killing at least 19 people.
Top UN officials, including the world body's security chief, were due to arrive in Nigeria on Saturday night and rescue workers combed through rubble at the building to ensure no one remained trapped.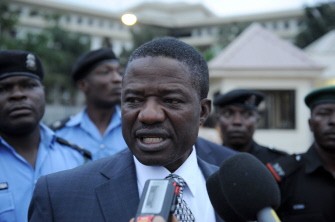 AFP - Nigerian Minister of Police Affairs Caleb Olubolade speaks at the scene of the bomb blast at the United Nations building housing UN agencies in Abuja, on August 26, 2011
Emergency officials visited area hospitals to check on casualties amid calls for blood donations. Dozens were wounded with various degrees of injuries, and a doctor at the national hospital called the situation "overwhelming".
Security was tightened throughout the capital and police nationwide were placed on high alert.
Nigerian President Goodluck Jonathan visited the scene of the attack on Saturday along with a number of government officials.
"One thing is very clear: (a) terrorist attack on any individual or any group is a terrorist attack to the rest of the world," Jonathan told journalists.
"It is not just about the UN office. We will work with the UN and all the world leaders, of course. Many of them have contacted me."
Asked about the Nigerian Islamist sect known as Boko Haram, he called it "a local group linked with terrorist acts and we as a government are working to bring it under control".
A man claiming to be a spokesman for Boko Haram said in a phone call to an AFP journalist that the group carried out Friday's attack. The veracity of his claims could not be confirmed and police said all possibilities were being considered.
The sect has not previously been known to target international organisations, but there have been growing concerns over whether it has formed links with extremist groups outside of Nigeria, including Al-Qaeda's north African branch.
The death toll from the huge bomb that blew out the first two floors of the building climbed to 19, according to emergency management agency spokesman Yushau Shuaib, one more than a previous toll provided by police.
It was believed that everyone had now been evacuated from the building, with a number of people rescued after apparently having been stuck in a lift for hours on Friday afternoon, said Shuaib.
But rescue teams arrived at the compound on Saturday morning saying they wanted to be sure no one was left inside.
About 20 UN employees also gathered at the site on Saturday, including those hoping to gather personal belongings left behind.
"God made me to do the unusual yesterday," one woman who did not want to give her name said between tears.
"I don't normally take breakfast, but yesterday, I went to the canteen for the first time. While I was eating, the bomb exploded and that saved me."
She said "we immediately rushed out, and since I am the security focal point for my agency, I made them lie flat so that we can manage them better and thereafter, we all managed to come out."
The building houses some 26 UN agencies and departments, with hundreds of employees with a variety of nationalities believed to have worked there. It was among the bloodiest attacks targeting the United Nations globally.
United Nations chief Ban Ki-moon strongly condemned the attack and dispatched Deputy UN Secretary General Asha-Rose Migiro and UN security chief Greg Starr to Nigeria.
"They are arriving tonight," UN spokesman in Nigeria Charles Nosa Osazuwa said. He declined to provide further details for now.
Questions have already been raised at the UN over how the bomber managed to make his way through two gates before ramming into the building.
Police spokesman Yemi Ajayi said it was too early to say who the main suspect in the bombing would be.
"Let the end of the investigation reveal that," he said.
A bomb blast that rocked a car park at national police headquarters in Abuja in June and killed at least two people was claimed by Boko Haram. Police first said it was the result of a suicide blast before later retracting their statement, saying they could not be sure.
Most of the attacks blamed on the sect have occurred in the country's northeast, but a number have been carried out elsewhere, including the previous explosion in Abuja as well as several in Suleija near the capital.
The Islamist sect launched an uprising in 2009, put down by a brutal military assault that left hundreds dead.
It went dormant for about a year before re-emerging in 2010 with a series of assassinations of security personnel and politicians, as well as religious and community leaders.
Nigeria's 150 million population is roughly divided in half between a mainly Muslim north and predominately Christian south.