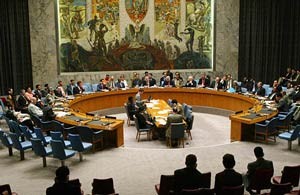 The Security Council divides over Iran's nuclear program
Western nations reacted coolly to Iran's response to a international offer of incentives in return for a halt to uranium enrichment, with the United States warning it fell short of UN demands and France insisting Tehran immediately suspend nuclear activities.
However, fellow permanent Security Council members China and Russia have appealed for a peaceful solution to the long-running standoff.
The Security Council adopted a resolution last month giving Iran until August 31 to freeze its uranium enrichment programme or face sanctions.
The US State Department said Washington was still consulting with fellow Security Council members after Tehran said it was ready for talks but declined to announce a moratorium on enrichment.
"We acknowledge that Iran considers its response as a serious offer, and we will review it," spokesman Gonzalo Gallegos said.
"The response, however, falls short of the conditions set by the Security Council, which require the full and verifiable suspension of all enrichment-related and reprocessing activities," he said.
Iran's top nuclear negotiator Ali Larijani said Tuesday Tehran was ready for "serious talks" but no details were made public of its response to a package of trade, technology and security incentives offered by the five permanent Security Council members plus Germany.
As the Security Council deadline neared, International Atomic Energy Agency inspectors are in the final stages of preparing a report on Iran's uranium enrichment work.
IAEA chief Mohamed ElBaradei is to report back to the Security Council on Iran's compliance and if it is deemed to have failed, the Council will consider adopting "appropriate measures" under Article 41 of Chapter Seven of the UN Charter, which sets out enforcement powers.
But an Iranian news agency reported that Iran would soon announce a breakthrough which would "highlight its mastery of different areas in nuclear science and reinforce Iran's position as a nuclear country".
In Washington, a congressional committee warned of "significant" gaps in US intelligence on Iran, a scenario it said precluded confident assessments on Tehran's suspected weapons of mass destruction programmes.
Source: AFP