TEHRAN (AFP) – Iran's opposition leaders came out fighting on Wednesday amid calls they be executed over deadly protests in Tehran, issuing statements slamming the authorities and praising demonstrators.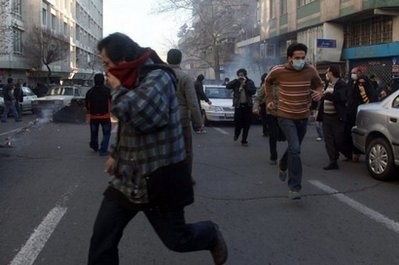 AFP file - Iranian ptotesters run for cover during an anti-government demonstration in Tehran February 14.
Clashes also erupted Wednesday between government supporters and "apparent" supporters of the opposition at a funeral in Tehran of a person killed in the protests, with both sides claiming him as one of their own.
"Students and people participating in the funeral of martyr Sane'e Zhale in Tehran Fine Arts University are clashing with a few apparently from the sedition movement," the state television website said.
State media said clashes erupted when pro-regime backers, including members of parliament and Revolutionary Guards, held a demonstration during the funeral.
Zhale, a Sunni Kurd, became the centre of a dispute with regime-backers insisting he was a member of the volunteer Islamist Basij militia, while the opposition said he came from their ranks.
"This university student (Zhale) was shot around Enghelab Square by small arms fire. He was a student of fine arts and defender of the regime," said state news agency IRNA.
Opposition website Rahesabz.net said Zhale was "pro-Mousavi and a member of the Green Movement."
Iranian authorities have blamed the two leaders, Mir Hossein Mousavi and Mehdi Karroubi, for violence on Monday after they called for a rally which turned into deadly anti-government protests in which two people were killed and several were wounded.
Furious lawmakers and a leading cleric on Tuesday accused them of being behind the violence and said they should be hanged.
In Monday's protests, two people were killed and several were wounded, including nine members of security forces, officials say, as riot-police fired tear gas and paintballs at demonstrators.
The latest unrest triggered fury in Iran's conservative-dominated parliament, with lawmakers demanding that Mousavi and Karroubi be executed.
"Mousavi and Karroubi should be executed! Death to Mousavi, Karroubi and Khatami!" lawmakers shouted in the house Tuesday, state news agency IRNA reported.
They said the United States, Britain and Israel had orchestrated the protests through the opposition leaders, who, according to parliament speaker Ali Larijani, were being "misled" by Iran's arch-foes.
Ayatollah Ahmad Khatami, a hardline cleric who often leads Friday prayers in Tehran, applauded the MPs and accused Mousavi and Karroubi of being "mohareb," or enemies of God, adding that they deserved the harshest of punishment.