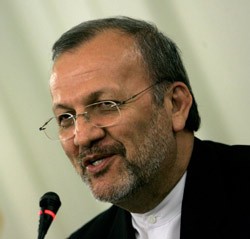 Iranian Foreign Minister Manouchehr Mottaki speaks during a press conference in Tehran, August 16, 2006 (AFP Photo)
Iran's foreign minister said Wednesday his country is ready to discuss suspension of its sensitive nuclear enrichment work, a point categorically rejected by senior officials in the past.
"Even the proposal to suspend enrichment, which we regard as illogical, can be discussed in negotiations," Manouchehr Mottaki told a press conference.
The minister did not elaborate on just what Iran might be prepared to discuss.
The UN Security Council has adopted a resolution requiring Iran to suspend all activities related to uranium enrichment by August 31 or risk possible sanctions.
The five UN Security Council members, plus Germany, expect Tehran's response on August 22 to a package of incentives in return for suspending enrichment.
Mottaki said any negotiations should "guarantee obtaining the Iranian people's rights as well as clearing up any questions, ambiguities and concerns regarding the Islamic republic's peaceful nuclear activites."
"We will not back down on our legitimate rights under any conditions," he vowed.
Iran has repeatedly insisted its nuclear programme is for civil purposes only despite Western concerns that it may be cover for an attempt to develop the bomb.
Mottaki described the UN resolution as "political" and "of no value for Iran."
Since the UN Security Council's resolution on July 31, Iran has repeatedly stressed that it will not accept suspending enrichment as a pre-condition for talks on the incentive package.
As recently as Tuesday, Iranian President Mahmoud Ahmadinjad rejected the resolution by saying: "If they think they can use a resolution as a stick against us, they should know that Iranian people do not bend to language of force."
Source: AFP