The Bushehr nuclear power station being built by Russia in Iran will not be launched earlier than the end of 2008, a spokeswoman for Russian contractor Atomstroiexport told AFP Thursday.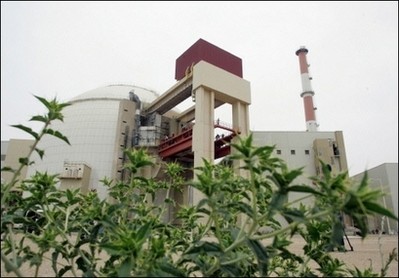 General view of the building housing the reactor at the Bushehr nuclear power plant in the Iranian port town of Bushehr (Photo: AFP)
"We can predict that the Bushehr station will be launched no earlier than the end of 2008 due to the current situation," said the spokeswoman, Irina Yesipova.

Her comments contrasted with a statement on Tuesday by a top Iranian nuclear official, Mohammad Saeedi, that the station should be producing electricity at full capacity in around a year.

Yesipova said the timeframe was not a question of delays, but of the amount of time needed to deliver fuel and carry out tests on the station.

Russia began delivering nuclear fuel to Bushehr last Sunday after repeated hold-ups.

Moscow's cooperation with Iran on the station had been controversial because of US and Israeli suspicions that the Islamic republic might be hiding a nuclear weapons program, something Tehran has denied.

Yesipova was speaking after the head of Atomstroiexport, Sergei Shmatko, was also quoted by Russian news agencies as saying on a trip to China that the station would not be launched before the end of next year.

Yesipova said it would take nearly two months to complete the sensitive delivery of nuclear fuel to Bushehr.

Six months after that tests would start on launching the station itself, she said.

"Six months after the end of deliveries of fuel we will start tests with the fuel. When the tests are successfully concluded we can launch the station. I can't say how long the tests will last," she said.