Iraq's deepening sectarian divide threatens to derail planned national peace talks before they even begin, as parties made their first boycott threats with less than a week to go.
Prime Minister Nuri al-Maliki's government announced on Friday that a National Reconciliation Conference would begin on December 16, in a bid to stem a rising tide of murderous violence by Shiite and Sunni factions.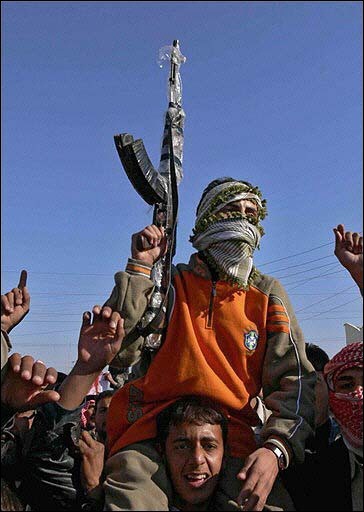 An Iraq militia
The urgency of the talks was underlined Saturday when suspected Sunni extremists detonated a car bomb near a revered Shiite shrine in the central city of Karbala, killed five civilians and wounded 47 more.
But the initial reactions to the invitation from Iraq's political groups only served to emphasise the deep bitterness and suspicion they will bring with them to the negotiating table -- if they come at all.
The factions disagree about the guestlist for the talks, with some Sunni leaders arguing that former members of ousted president Saddam Hussein's Baath party should attend, an idea fiercely opposed by the Shiites.
"They have to extend an invitation to the Baath party and to resistance parties. They deserve such an invitation," said Khalaf al-Alyan of the Iraqi National Dialogue Council, one of the Sunni parliamentary blocs.
"The Baath party was the ruling party and has to be invited, otherwise who would you reconcile with?" he asked, speaking by telephone from Amman.
A lawmaker from Shiite radical leader Moqtada al-Sadr's bloc rejected the idea out of hand. Iraq's Shiite and Kurdish populations bore the brunt of Saddam's brutality when he was in power and now favour purging Baathists.
"Our stand was obvious from the beginning. We will not sit at a table with the Saddamists and Baathists," said Saleh Hassan Issa al-Igaili.
"They have gone and good riddance. No one should sympathise with them. They have sold the country and facilitated the invasion of the occupier," he said, blaming Saddam's regime for provoking the US-led invasion of March 2003.
"They are now trying to return to Iraq by any means," he charged.
Another Shiite lawmaker, this one from the powerful Supreme Council for the Islamic Revolution in Iraq (SCIRI), supported the view.
"How can we negotiate with criminals and those whose hands are stained with blood?" he demanded, speaking on condition of anonymity. "There's no way to sit and negotiate with Baathists."
Nevertheless, a senior Kurdish lawmaker and member of Maliki's Higher Committee on Dialogue, said that some supporters of the former regime may be invited in order to create a representative conference.
"The government has sent envoys to Jordan, Egypt and United Arab Emirates to invite opposition forces -- including some Baathists -- to the conference," Mahmud Othman told AFP.
"We do not know whether they will accept this invitation or not. Their attendance is not sure," he added, while insisting that former foes must be invited into the peace process if it is to succeed.
"If those attending were from outside the political process, that would be useful and significant," he said.
But he added, optimistically: "If the conference was only for those parties who are within the current political process, it would still be useful as there are huge problems among the current political blocs."
Meanwhile, one key Sunni faction announced an outright boycott.
The Muslim Scholars' Association, a Sunni clerics' organisation with alleged links to some of the insurgent groups fighting in Iraq, said it had not yet been invited but would not come if asked.
"The association will not participate in the reconciliation conference as proposed by the government," said spokesman Sheikh Mohammed Bashar al-Faidhi.
"We have seen in the past more than once that the government signs some agreements and later goes back on them," he told AFP, referring to a peace conference in Cairo last year.
The association's head, Sheikh Hareth al-Dhari, is currently outside Iraq and wanted by the government for allegedly inciting sectarian violence against the country's Shiite majority.
The December 16 conference was first due to take place in early 2006 but had been postponed due to an upsurge in the violence plaguing Iraq following a bomb attack in February on a revered Shiite shrine in Samarra.
Now, more than 100 Iraqis are being killed every day and Iraq's leaders are under pressure from some of their own supporters and from the United States to broker a political truce and isolate extremists.
But it is far from clear whether Maliki himself, a Shiite hardliner elected prime minister thanks to votes from Sadr's radical bloc, is in a position to reconcile factions embittered by months of bloodshed.
"The government calls for reconciliation while it sends its militia into certain regions of Baghdad to kill" Sunni Arabs, Alyan charged.
"We are disappointed. If they want reconciliation, they have to stop their militias from killing Sunnis or kidnapping them."
The Sunni leader demanded instead an international conference of the sort urged by UN Secretary General Kofi Annan, an idea already firmly rejected by Maliki, President Jalal Talabani and SCIRI's Abdel Aziz al-Hakim.