Gunmen kidnapped a senior Trade Ministry official in Baghdad on Tuesday 26 after stopping his vehicle on his way to work, a ministry source said.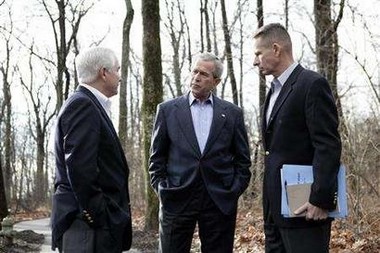 President George W. Bush (C) discusses Iraq situation with Secretary of Defense Robert Gates (L) and Chairman of the Joint Chiefs of Staff General Peter Pace at Camp David, December 23, 2006
Muhanad Ahmed Saleh, director of the Baghdad International Fair, was abducted shortly after he left his home in Amiriya, a Sunni district in western Baghdad.
Baghdad is plagued by kidnappings. Many are political abductions by armed groups on either side of Iraq's Shi'ite-Sunni sectarian violence. Some kidnappings are carried out by criminal gangs seeking extortion money.
Nearly four years after the war in Iraq began, the number of Americans troops killed there now exceeds the grim toll of victims from the Sept. 11 terrorist attacks.
The U.S. military death toll in Iraq has reached 2,974, one more than the number of deaths in the Sept. 11, 2001, attacks in the United States, according to an Associated Press count on Tuesday.
The 9/11 death toll includes the 2,749 killed at the World Trade Center, 184 at the Pentagon and 40 passengers aboard United Flight 93. While all were killed within a few hours that morning, the deaths in Iraq have stretched across 45 months _ with no end yet in sight.
The victims came from across the United States. More than 50 residents of Alabama have died in the conflict. More than 30 of the dead lived in Nebraska. More than 40 went to Iraq from Kentucky...