The visiting Iraqi Kurdish region's vice president said on Thursday Iraq opposed any action against Iran's "security," as Tehran reiterated it was "serious" in its fight with Kurdish rebels near the border area.
"Considering the historic support and strategic relations with the Islamic republic, Iraq will oppose any action that is against Iran's security," Nechirvan Barzani said in a meeting with Iranian President Mahmoud Ahmadinejad.
"We believe that the security of Iran is as important as that of Iraq and problems must be solved through cooperation," Barzani, son of president of the autonomous Kurdish region Massud Barzani, was quoted as saying by the Iranian president's website.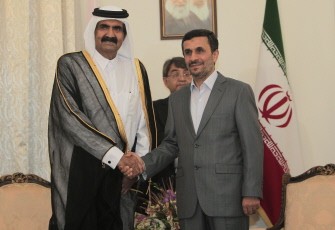 Iranian President Mahmoud Ahmadinejad (R) shakes hands with Qatar's Emir Sheikh Hamad bin Khalifa al-Thani (L) upon the latter's arrival at the presidential offices in Tehran on August 25, 2011
In July, Iran's elite Revolutionary Guards launched a major offensive against rebels from the Party of Free Life of Kurdistan (PJAK), targeting their bases along the Iran-Iraq border.
The Guards said they destroyed PJAK compounds inside Iraqi territory, while claiming to have killed more than 50 rebels and losing eight men in the fighting.
Saeed Jalili, secretary of Iran's Supreme National Security Council, met with Barzani in the evening, and said Tehran was "serious" in its fight against terrorism.
"Those ... who (seek) to spread insecurity and terrorist actions should not be allowed" to achieve their objectives, he was quoted as saying by the state television website.
"We will not under any circumstances allow foreigners to use terrorism to disturb the security, development and welfare of the people" of Iran and Iraq, he added.
PJAK rebels, labelled as terrorists by Tehran, often clash with Iranian forces. Their bases in the mountainous border regions of Iraqi Kurdistan, from which they launch their attacks, are bombed in retaliation.
On August 17, an operations commander, Colonel Hamid Ahmadi, told foreign media in Tehran Iran intends to continue the operation "to secure our borders, for the terrorists not to infiltrate and harm our people."
Before launching the attack, Iran had criticised Massud Barzani for what it called providing the PJAK with a vast safe haven along the border.
On Thursday, Ahmadinejad said Tehran supported "a secure and developed Iraq which would be in the interest of Iran and the region."
"The common enemies of Iran and Iraq ... are devising new plans to spread insecurity in the region," Ahmadinejad said in an allusion to Kurdish fighters, whom Tehran says are backed by arch-foes Israel and the United States.