An unpublished US government report says US-led efforts to rebuild Iraq were crippled by bureaucratic turf wars, violence and ignorance of the basic elements of Iraqi society, resulting in a 100-billion-dollar failure, The New York Times reported on its website late Saturday.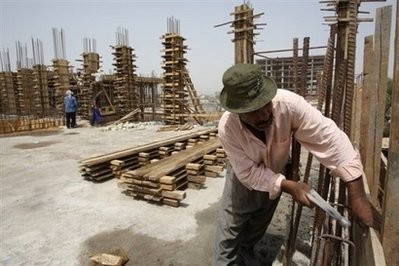 Iraqis work at a new construction site in Baghdad in August. (AFP Photo)
The newspaper said it had gotten hold of a copy of the 513-page federal history of the reconstruction effort that is circulating in Washington in draft form among a tight circle of technical reviewers, policy experts and senior officials.
The document has former secretary of state Colin Powell complaining that after the 2003 invasion, the Defense Department "kept inventing numbers of Iraqi security forces -- the number would jump 20,000 a week! 'We now have 80,000, we now have 100,000, we now have 120,000.'"
The overarching conclusions of the history is that the US government has in place neither the policies nor the organizational structure that would be needed to undertake the largest reconstruction program after the Marshall Plan, the report said.
All in all, the document concludes that the rebuilding effort never did much more than restore what was destroyed during the invasion and the pervasive looting that followed, The Times pointed out.
By mid-2008, according to the history, 117 billion dollars had been spent on the reconstruction of Iraq, including about 50 billion in US taxpayer money, the paper noted.
At one point, an official at the US Agency for International Development was given four hours to determine how many miles of Iraqi roads would be needed to be repaired and reopened, according to the newspaper report.
The official searched through the agency's reference library, and his estimate went directly into a master plan.
Money for many of the local reconstruction projects was divided up by a spoils system controlled by neighborhood politicians and tribal chiefs, according to The Times.
"Our district council chairman has become the Tony Soprano of Rasheed, in terms of controlling resources," the paper quotes one US Embassy official in Baghdad as saying. "'You will use my contractor or the work will not get done.'"