Israeli Premier Ehud Olmert consulted domestic political leaders on Egyptian-brokered Gaza truce talks on Sunday, a day after ruling out any deal without the release of a captured soldier.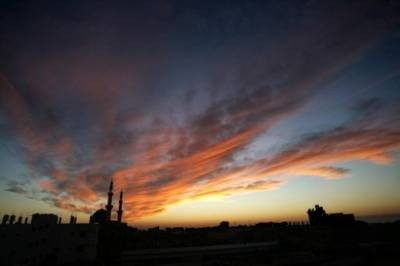 A mosque is silhouetted at sunset in the southern Gaza Strip town of Rafah on February 13, 2009. (AFP Photo)
The Hamas deputy leader meanwhile hinted that the soldier may have been killed during Israel's war on the Islamist movement's besieged Gaza enclave last month, along with some 1,300 Palestinians and 13 Israelis.
"Mr. Olmert will today hold consultation with the main political leaders over a truce" with Hamas, government spokesman Mark Regev told AFP.
Asked whether the outgoing premier would meet the right-wing Likud leader Benjamin Netanyahu -- who is widely expected to form the next government -- Regev said Olmert would "take into account the new circumstances created by (last week's) elections",
"The prime minister has had some consultations and he will have others later today," Regev added without elaborating.
Egypt has been struggling to broker a lasting truce between the two sides since the devastating three-week war in Gaza was halted by separate ceasefires on January 18 that have since been strained by tit-for-tat exchanges of fire.
Olmert said on Saturday that Israel would not agree to any truce without the release of Sergeant Gilad Shalit, a conscript seized in a deadly cross-border raid by Hamas and two other militant groups in June 2006.
"There is no reason to delay his release even if the truce has to unfold in two phases," Israeli Interior Minister Meir Sheetrit said.
"I am ready to pay the price but it is out of the question to open the border crossings without Shalit being freed."
Hamas has demanded that any truce deal include the full reopening of all Gaza's border crossings, bringing an end to the blockade Israel imposed when the Islamist group seized Gaza in 2007.
While Israel has linked the opening of the crossings to Shalit's release, Hamas has said the captured soldier is a separate matter to be resolved through a prisoner exchange for hundreds of Palestinians held in Israeli jails.
"There is no relationship between the two files," Hamas government spokesman Taher al-Nunu told AFP on Saturday.
Hamas number two Mussa Abu Marzuq meanwhile hinted that Shalit may have died during the Gaza war.
"I don't have enough information, but Shalit may have been among the children who died. But really, I don't know," the Damascus-based official told the London-based Arabic newspaper Al-Hayat.
Then a 19-year-old corporal, Shalit was captured on June 25, 2006 by Hamas and other militants who tunnelled under Gaza's border with Israel and attacked an army post. Relatives say the now 22-year-old conscript has a passion for basketball.
Egyptian security chief Omar Suleiman has been leading separate negotiations with Israel and Hamas, and has said efforts were underway to draw up a list of Palestinian prisoners who might be released in exchange for Shalit.
On Saturday, Hamas spokesman Fawzi Barhum accused Israel of "backtracking" on the talks by demanding an open-ended agreement instead of an 18-month truce and of stepping up attacks on the group's Gaza enclave.
Both sides have repeatedly tested the separate ceasefires that ended the war, with Palestinian militants firing more than 40 rockets and mortar rounds and Israel carrying out several deadly air strikes.
On Saturday, the Israeli army said a longer-range Grad-style rocket fired by Gaza militants had evaded its early warning system and struck the seaside town of Ashdod, 38 kilometres (23 miles) north of Gaza.
The rocket was believed to have been fired on Friday evening, as militants launched shorter-range rockets and a mortar round, prompting a series of Israeli air strikes that killed one militant and wounded nine other people.
In a separate incident on Saturday, a roadside bomb exploded near an Israeli army patrol along the border without causing any casualties, the army said.
Last week, Israel held a general election in which right-wing parties -- which have vowed tough action against Hamas in Gaza -- made major gains, casting further doubt