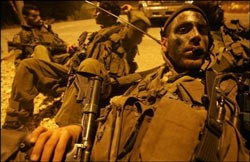 Israeli troops wait for orders to enter southern Lebanon (AFP Photo)
Columns of Israeli tanks thrust into Lebanon and battled Hezbollah fighters but Israel said it had put a broader offensive on hold to give diplomacy a chance to end the month-old war.
Israeli Public Security Minister Avi Dichter said the timing of a new offensive "depends to a great extent on what is happening in New York," where the UN Security Council struggled to negotiate a ceasefire resolution.
But Hezbollah leader Hassan Nasrallah warned Israel that south Lebanon would become a "graveyard" for the Middle East's most powerful army if it invaded.
Lebanese police said one Israeli armoured column had entered Marjayun, a major border town about 10 kilometres (six miles) inside Lebanon, after meeting little resistance.
They said another column was locked in fierce fighting at nearby Khiam, where Hezbollah guerrillas were still dug in and firing anti-tank rockets, hours after Israeli artillery rained about 1,000 shells on the little town.
Police said Israeli soldiers were driving in military vehicles inside Marjayun, but the head of the town council, Fuad Hamra, told Lebanese television that sporadic shooting could be heard.
"We have a problem because we have 600 displaced in schools. We were supposed to deliver water for them and now we cannot do anything" he said.
An Israeli military spokeswoman suggested that the troops had not seized control of Marjayun, saying: "Our forces are going in and out of the town."
The Lebanese army has so far stayed on the sidelines of the conflict, which began on July 12 when Israel launched a massive campaign by air, land and sea after Hezbollah captured two of its soldiers in a cross-border raid.
The government of Lebanese Prime Minister Fuad Siniora has offered to deploy 15,000 troops north of the frontier to help enforce a UN ceasefire resolution, provided that Israeli forces pull out immediately hostilities come to an end.
Members of the UN Security Council have for days been wrestling with a draft resolution which Siniora wants amended.
"We must exhaust all diplomatic options. Important efforts for a solution are being deployed in New York," Israeli Justice Minister Haim Ramon told public radio.
"It's a matter of a few hours, maybe 24 hours, let's be patient," he added.
Lebanese officials say more than 1,000 civilians have died since July 12, mostly as a result of Israeli bombing raids across the country, and that close to one million, a quarter of the population, have fled their homes.
Despite urgent pleas from relief agencies for a respite from the fighting to get in desperately needed aid to south Lebanon, Washington said it had no idea when talks at the United Nations would produce an agreement on the wording of a ceasefire call.
Israel's Deputy Prime Minister Eli Yishai forecast that the war would last at least another month.
"It is believed that it will last another 30 days," Yishai said Wednesday after the cabinet decision. "I fear it could last much longer."
Despite its military superiority, Israel's armed forces have found it much harder than expected to crush the Shiite Muslim Hezbollah and to quell its deadly rocket attacks.
Most of the residents of the northern Israeli town of Kiryat Shmona have left in the first evacuation of an entire town since the creation of Israel in 1948.
At the United Nations, US ambassador John Bolton told reporters he thought some progress had been made on redrafting the resolution, but said "I don't want to underestimate the difficulties that we are trying to overcome."
Diplomats said no vote on a resolution was likely before Friday.
British-based Oxfam warned of a "logistical nightmare" in reaching the hardest-hit victims in Lebanon.
Source: AFP