A series of Israeli military raids in the Palestinian territories killed 10 Islamic Jihad militants overnight on Tuesday, including the Gaza chief of its armed wing, officials said.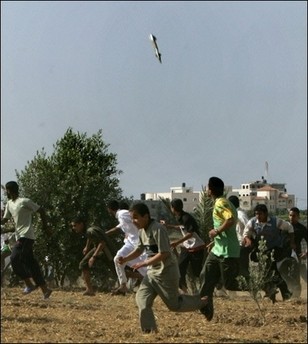 File picture shows Palestinians running for cover as a rocket (top) fired by the Israeli military heads to its target in the Gaza strip (Photo: AFP)
Three air raids on the Hamas-run Gaza Strip killed nine militants from the radical group while in the occupied West Bank one militant died in a commando operation, medics, security officials and Islamic Jihad said.

The first strike in Gaza City late on Monday killed Majed al-Harazin, 36, the commander of the Al-Quds Brigades, Islamic Jihad's armed wing, and his assistant, medics and the militant movement said.

An Israeli army spokeswoman confirmed that Harazin, suspected of "supervising commandos responsible for firing rockets at southern Israel," was the target of the raid.

A second air strike in Gaza killed four militants, with three dying instantly and the fourth hours later from wounds in hospital, medics said.

The Israeli spokeswoman said the Islamic Jihad men "were preparing to fire rockets into southern Israel."

A third air strike killed three militants in a car near the northern town of Beit Lahiya, medics said.

An Israeli military spokeswoman confirmed the air strike, but was unable immediately to provide any details.

In the occupied West Bank, 25-year-old Tarek Abu Rali, a local commander of the Al-Quds Brigades, was killed by Israeli commandos as he drove in a car in the northern West Bank town of Jenin, medics said.

Deputy Defense Minister Matan Vilnai hailed the "successes," saying the army was targeting the leadership of the radical group which has claimed responsibility for firing most of the rockets launched from Gaza into Israel over the past two years.

"The important thing is not the number of them who are hit, but their place in the organization's hierarchy," he told army radio.

The latest deaths brought to 5,986 the number of people killed in Israeli-Palestinian violence since the start of the second Palestinian uprising in 2000, the vast majority of them Palestinians, according to an AFP count.

Calls have grown in Israel over the past several months for the military to launch a widescale ground offensive in Gaza to put an end to the daily firing of rockets and mortars from the Hamas-run territory.

Most of the projectiles fall without causing casualties, but their psychological impact has left Israelis living around the coastal strip in a perpetual state of shock.

Hamas seized control of Gaza in mid-June after routing forces loyal to the secular Palestinian president Mahmud Abbas in a week of deadly street clashes.

Last week Israel's security cabinet ruled out for the moment launching a large ground operation. Previous widescale offensives have failed to halt the rocket fire.