Israeli Foreign Minister Tzipi Livni and hawkish ex-premier Benjamin Netanyahu both declared victory Wednesday in a nail-biting election, setting the stage for a protracted power struggle.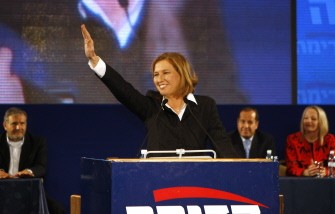 Israeli Foreign Minister Tzipi Livni waves to supporters during elections night at her Kadima party headquarters in Tel Aviv on February 11, 2009. (AFP Photo)
Livni's centrist Kadima won 28 seats in the 120-member parliament, followed by Benjamin Netanyahu's Likud party with 27, but right-wing parties made major gains overall, making Netanyahu more likely to return to the premiership.
The Israeli right appeared to have risen on the back of the Gaza war and widespread concerns about security, and its likely return to power could hinder US-backed efforts to revive faltering Middle East peace talks.
"Today the people have chosen Kadima," Livni told party supporters in Tel Aviv as she vowed to become Israel's second woman prime minister and urged Netanyahu to join a national unity government under her leadership.
"Israel does not belong to the right in the same way that peace does not belong to the left," said the 50-year-old Livni.
Although jubilant Kadima supporters jumped with joy after exit polls showed it ahead, it is not certain Livni will be chosen to form the next government, and the tight race means Israel is facing weeks of political uncertainty.
Netanyahu, 59, also said he was confident he would head the next government after Likud -- which suffered a devastating defeat in 2006 -- more than doubled its representation.
"The national camp led by the Likud has won an unambiguous majority," Netanyahu told supporters at party headquarters in Tel Aviv.
"I am certain that I will be able to form the next government," he said. "I can unite all forces of this nation and lead Israel."
Under Israel's political system, the party with the most seats is not necessarily tasked with forming a government and most analysts said before the vote that Netanyahu was the best placed to corral the required 61 MPs.
The far-right Yisrael Beitenu party of Avigdor Lieberman -- set to become kingmaker in coalition negotiations -- took third place with 15 seats and the Labour party of Defence Minister Ehud Barak came in fourth with 13, a historic low for the centre-left party.
The ultra-Orthodox Shas party came in fifth with 11 seats, rounding out the overall gains by right-wing parties.
The Western-backed Palestinian Authority has been careful not to voice publicly a preference for any candidate, but senior Palestinian negotiator Saeb Erakat expressed dismay that right-wing parties had performed so well.
"It's obvious the Israelis have voted to paralyse the peace process," he told AFP.
Hamas -- which endured a devastating three-week Israeli offensive in Gaza that killed over 1,300 Palestinians and 13 Israelis -- had originally expressed little interest in the vote, saying all Israeli leaders were equally bad.
But after the exit polls, Hamas spokesman Fawzi Barhum said Israelis had voted for "the most bellicose candidates, those who are the most extremist in their rhetoric."
Despite fears the foul weather would keep voters indoors, 65.2 percent of the almost 5.3 million eligible voters turned out, slightly higher than in the 2006 election.
For weeks, opinion polls have given the lead to the Netanyahu, a smooth-talking tactician who become Israel's youngest prime minister in 1996 and again presented himself as a security hardliner.
But in recent days, Livni had clawed back some of the ground lost by Kadima, which is still reeling from a series of corruption scandals that forced Prime Minister Ehud Olmert to resign last year.
The biggest surprise in the election has been the meteoric rise of Lieberman, a tough-talking Moldovan-born former bouncer who has taken a hard line against Israel's Arab minority and been derided as a racist by his critics.
"I am very glad we hold the key" to the next government, Lieberman told his supporters, adding that he was "leaning towards a right-wing government" but would not make any immediate decisions.
Netanyahu has vowed to topple Hamas and put a stop to rocket attacks which have continued sporadically since the January 18 end of the Gaza war.
He also wants peace talks to focus on improving economic conditions in the West Bank before other issues are discussed.
Opinion polls indicate he will emerge in the strongest position to form a government, and he has said he wants a broad alliance with Kadima and Labour.
In her two and a half years as foreign minister, Livni -- a former Mossad spy -- spearheaded peace talks with the Palestinians which have made little visible progress.