GAZA CITY, Palestinian Territories, June 7, 2010 (AFP) - Israeli forces on Monday shot dead four Palestinian 'commandos' off Gaza as the Jewish state scrambled to cope with mounting fallout over an earlier deadly sea battle.
Palestinian witnesses said they saw Israeli helicopters and naval forces firing on a vessel off the coast south of Gaza City, at about 4:00 am (0100 GMT).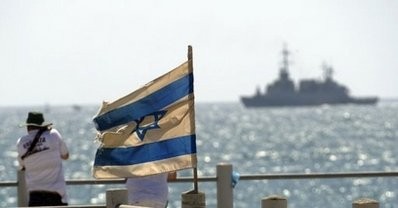 Two Israeli men stand near a national flag as they watch a navy vessel leave the Israeli port of Ashdod in southern Israel on June 5, 2010. (AFP file)
Two hours later, four bodies in diving suits were pulled from the water, medical sources and witnesses said, describing the dead as "commandos." A search was under way for another two people still missing after the attack.
Israel's military confirmed its navy had attacked a boat carrying "a squad of terrorists wearing diving suits on their way to execute a terror attack."
Shortly afterwards, Israel mounted an air strike in northern Gaza, which left an armed Hamas militant wounded, Palestinian medical and security sources said.
The violence off Gaza came exactly a week after Israel's navy mounted a bungled operation to stop a fleet of aid ships heading for the beleaguered coastal Strip which has been under a tight blockade since 2006.
That operation descended into chaos and violence which left nine foreign activists dead, most of them Turkish, and has sparked a huge backlash of anger across the globe -- and a mounting diplomatic crisis for Israel.
As anger grew over Israel's tight blockade on Gaza, Iran's Red Crescent said it would send two aid ships to the besieged territory this week -- one carrying foodstuffs and medicine, and a second carrying aid workers, the state IRNA news agency reported.
The Iranian Red Crescent had previously sent an aid ship to Gaza in December 2008 but it was prevented from reaching the territory by the Israeli navy.
Earlier this week, Iran's elite Revolutionary Guards had reportedly said they were willing to escort any future aid flotillas heading for Gaza.
The violence off Gaza came just hours after the last of the 19 activists and crew from the Rachel Corrie aid ship which tried to run the Israeli blockade on Saturday, were deported from Israel.
"They have all left," Israeli immigration official Sabine Haddad told AFP, saying the five Irish nationals, including Nobel Peace Prize winner Mairead Maguire, had flown out on a plane which left at about 5:00 am (0200 GMT).
Six Malaysians and a Cuban were deported to Jordan on Sunday while the remaining activists -- including six Filipinos and a Briton -- left overnight.
Israeli forces intercepted and seized control of the Rachel Corrie on Saturday as it tried to reach the Gaza Strip, in a peaceful operation which had a radically different outcome from an earlier raid on an aid flotilla that left nine dead last week.
Diplomatic heavyweights Britain and France added their voices to growing calls for an independent investigation into the botched raid.
"We think it is very important that there is a credible and transparent investigation... there should be an international presence at minimum," said British Foreign Secretary William Hague said in Paris.
French President Nicolas Sarkozy also pushed Israel to accept "a credible and impartial inquiry" into the raid, his office said.
But Israel hit back, insisting it was capable of holding itself to account.
"We are rejecting the idea of an international commission," Israel's Washington ambassador Michael Oren told US television. "Israel has the ability and the right to investigate itself, not to be investigated by any international board."
Meanwhile, Foreign Minister Avigdor Lieberman left for New York where he was to brief Israeli diplomats on the government's position on the aid flotilla, his ministry said.
Israel has vigorously defended the raid, saying its commandos only resorted to force after being attacked as they reached the deck, but activists on board claim the soldiers started firing first.
As Turkey continued to spearhead calls for Israel to be brought to justice over the bloody raid, Palestinian president Mahmud Abbas paid a condolence visit to Istanbul where he was to hold talks with President Abdullah Gul and other top officials.