United States - Italy and the Netherlands agreed yesterday to split their term on the UN Security Council after a tie in voting forced them to reach a compromise, sources from AFP,VNS.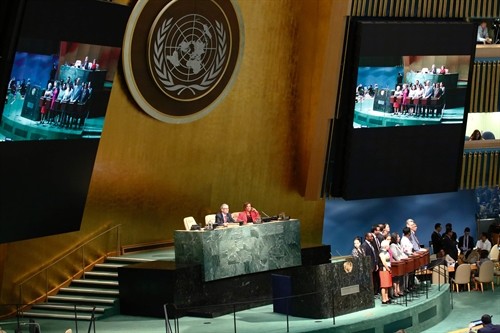 United Nations General Assembly President Mogens Lykketoft speaks before the election of five non-permanent members of the Security Council at the United Nations in New York yesterday. Three European countries and two Asian nations are battling for seats on the UN Security Council in elections that are drawing attention to the refugee crisis and human rights. - AFP/VNA Photo
In the vote for five non-permanent seats, Kazakstan was elected for the first time, joining Bolivia, Ethiopia and Sweden which won spots during the secret balloting at the 193-nation General Assembly.
But five rounds of voting ended with the Netherlands and Italy neck and neck at 95 votes each, far short of the two-thirds majority needed to win the seat.
Announcing the compromise deal, Dutch Foreign Minister Bert Koenders told UN delegates that the outcome was "a clear signal that you appreciate both our countries".
Italian Foreign Minister Paolo Gentiloni said that given the "perfect parity", the shared term on the council was a "way to show from two European countries a message of unity".
Under the agreement which will be put to a vote, Italy will serve on the council in 2017 and the Netherlands will follow in 2018.
Italy had lobbied fiercely for a council seat, portraying itself as a crossroads country in the Mediterranean and touting its experience dealing with the refugee crisis.
The European country is also seen as a player in efforts to pull Libya out of chaos.
The Netherlands, home to the International Criminal Court and other world tribunals, has played up its commitment to international justice.
If approved by the assembly, the split term would be a rare but not unprecedented occurence in UN history.
Turkey and Poland set a precedent when they shared a Security Council term in 1960.
Kazakh Foreign Minister Yerlan Idrissov said "we are very proud to be the first central Asian country to serve on the council" and pledged to focus on nuclear non-proliferation and development.
The five newly-elected countries will take their place alongside the five permanent council members -- Britain, France, China, Russia and the United States.
The other five non-permanent members are: Egypt, Japan, Senegal, Ukraine and Uruguay.
The new members will begin their stint on January 1, just as the next secretary-general takes the helm following an October election to replace Ban Ki-moon.