TOKYO (AFP) – Japanese business confidence has improved for a sixth straight quarter but companies are expecting a gloomy end of the year amid increased global economic uncertainty, the Bank of Japan said Wednesday.
Sentiment among major manufacturers rose to a higher-than-expected reading of 8 in September from 1 in June, according to the central bank's closely watched Tankan survey of more than 11,000 firms.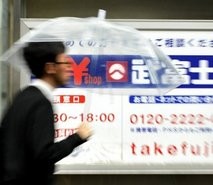 AFP file - Japanese business confidence has improved for a sixth straight quarter
The latest figure shows that optimists still outweigh pessimists among major manufacturers in terms of their view of Japan's economic climate, in only the second positive reading since June 2008.
But the forecast for the December survey is for a reading of minus 1, suggesting that companies expect conditions to sharply worsen in the months ahead as Japan remains beset by deflation and the effects of a strong yen.
"Companies are very cautious about the economy towards the year-end," noted Naoki Murakami, chief economist at Monex Securities.
In particular there was "increasing uncertainty about the world economy and the (Japanese) government's dull responses to the chain reaction of the yen's rise and stock price falls."
The strong yen has hurt exporters, making their goods more expensive and eroding companies' overseas profits when repatriated.
Exports, a crucial driver for Japan's growth, expanded at their slowest pace this year in August, as the impact of the yen's strength and softening overseas demand illustrated the risks threatening a fragile recovery.
A strong domestic currency also makes imports cheaper, helping prolong a damaging deflationary cycle where consumers hold off on purchases in the hope of further price drops, clouding future corporate investment.
The reading was made with companies expecting an exchange rate of 89.44 yen to the dollar, higher than in the previous survey but much lower than current levels, which if sustained will further erode confidence.
Japan stepped into the currency markets in September for the first time since 2004 in a bid to stem the yen's strength after it hit a 15-year high against the dollar, and has repeatedly warned it is ready to do so again.
"Many (negative) factors are piling up," said Takeshi Minami, economist at Norinchukin Research Institute. "Considering exports and consumer spending are unlikely to be a strong driving force, the economy will be at a standstill."
Japan's economy expanded by an annualised 1.5 percent in the April-June period, sharply lower than the previous quarter's 5.0 percent.
Prime Minister Naoto Kan Monday ordered a supplementary budget for fresh stimulus measures be put together to shore up the flagging economy, after he recently announced 915 billion yen package to add jobs and boost growth.
The Tankan figures are looked at closely by the central bank when formulating monetary policy, and it has come under heavy government pressure recently to do more to help boost the economy.
"The outcome of the latest Tankan will prompt the BoJ to go for additional monetary easing," said Murakami.
The upbeat September reading among big firms was helped by higher automobile demand ahead of the expiration of government stimulus incentives for green car purchases, said Minami.
But including all industries such as medium and small-sized manufacturers and non-manufacturers, the outlook was gloomy at a reading of minus 10.
The index, which measures the percentage of firms that think business conditions are good minus those that believe they are bad, hit a record low of minus 58 in March 2009.