TOKYO, March 9, 2011 (AFP) - Japan's core private-sector machinery orders, a a top indicator of corporate capital spending, rose 4.2 percent in January from the month before, data showed on Wednesday, strengthening recovery hopes.
The data marked the second consecutive monthly growth and beat market expectations of 3.1 percent rise in a survey by the Nikkei business daily.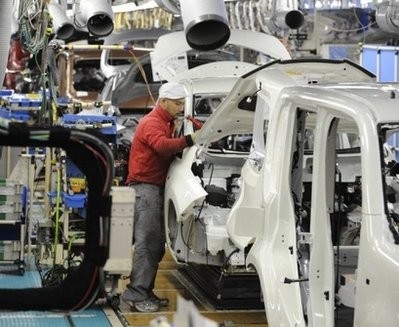 AFP file - A worker at Nissan Motors is seen installing components onto an electric vehicle at one of the auto giant's assembly lines in Yokosuka.
The positive core data, which exclude volatile demand from power companies and for ships, followed a 1.7 percent rise in December and was the biggest increase since August, the Cabinet Office said.
"Machinery orders are on the recovery trend, but weakness is seen in the non-manufacturing sector," it said.
The January figures were the latest indication that the Japanese economy is recovering after a contraction in October-December, when gross domestic product shrank 1.1 percent at an annual rate.
Recent data have prompted both the government and the Bank of Japan to upgrade their forecasts for the economy, creating expectations for a positive GDP figure for the first quarter of the year.
Japan's industrial output rose in January for the third straight month, as the pace of export growth quickens.
Norio Miyagawa, senior economist at Mizuho Research and Consulting, told Dow Jones Newswires: "Today's report, along with other recent indicators, suggest business spending should continue increasing moderately in the January-March quarter, though it's still too early to say if it will accelerate."
Overseas demand posted a 71.4-percent jump amid the global economic recovery.
Mizuho's Miyagawa said that the surge in overseas orders "must be due to some big-ticket, one-off orders".
But he added that "still, the underlying trend of strong demand in Asia, particularly China, and in the US will continue to underpin recovery in overall business investment."