SENDAI, Japan (AFP) – The death toll from Japan's worst post-war disaster topped 10,000 Friday as the operator of a radiation-belching nuclear plant warned that work to stabilise it may take another month.
Two weeks after a giant 9.0-magnitude quake struck and sent a massive tsunami crashing into the Pacific coast, wiping entire towns off the map, Japan held out little hope of finding alive another 17,433 listed as missing.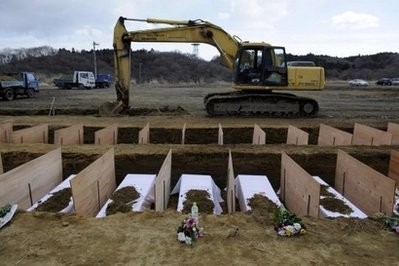 AFP - The death toll from Japan's worst post-war disaster topped 10,000 Friday.
The focus of Japan's fears remained the six-reactor Fukushima nuclear plant northeast of Tokyo, which was still emitting radioactive vapour that has made Tokyo drinking water unsafe for infants and sparked a global food scare.
The European Union has joined the United States, Russia and several other countries in restricting food imports from Japan, which itself has ordered a stop to vegetable and dairy shipments from the region around the plant.
Higher radioactivity has also been detected in the ocean near the coastal power station, raising consumer fears about the safety of fish and seaweed, which are traditional food staples of the island nation.
At Tokyo's usually frantic Tsukiji fish market, the world's biggest, demand has plummeted -- partially because half-empty hotels in a nervous Tokyo have reduced orders as foreigners stay away and conferences are cancelled.
At the Fukushima power station, plant workers kept spraying seawater onto overheating reactors and fuel rod pools as a stop-gap measure to prevent a larger meltdown, while trying to rebuild the original cooling systems.
The tremendous risk faced by the emergency crew was highlighted when two workers, employees of a subcontractor for the operator Tokyo Electric Power Company (TEPCO), were hospitalised Thursday with radiation burns.
The workers were placing cables in the basement of the number three reactor's turbine building when they stepped into a pool of water containing iodine, caesium and cobalt 10,000 times the normal level, TEPCO said.
The men, aged in their 20s and 30s, were wearing radiation suits but not full-length boots and had ignored a warning alarm from their dosimeters, "assuming a problem with the device", a TEPCO official said.
A total of 17 workers have been exposed to more than 100 millisieverts, the level at which the risk of developing cancer rises, the company says.
TEPCO admitted Friday it may take at least another month to achieve a cold shutdown of all reactors -- when temperatures inside fall below boiling point and its cooling systems are back at atmospheric pressure.
"We are still in the process of assessing the damage at the plant, so that we can't put a deadline on when the cooling operations will work again. It may take more than a month, who knows," a TEPCO spokesman told AFP.
The workers' injuries were a setback after some successes.
Engineers have powered up two key control rooms as they try to rebuild the complex architecture of water pipes and electric wiring, but there were concerns of damage caused by the heat, explosions and build-up of sea salt.
The emergency crews were working to restore pumps that will inject fresh water into the worst-hit one and three reactors, instead of the corrosive seawater which may damage electric lines, the nuclear safety agency has said.
Along the tsunami-ravaged coast of northern Honshu island, meanwhile, some 250,000 homeless in almost 2,000 shelters kept braving privations and a winter chill, with a degree of discipline and dignity that has impressed the world.
Huddled in converted school gymnasiums and makeshift camps around oil-drum fires, almost all are grieving for missing friends and relatives.
The elderly, a large demographic in fast-greying Japan, were especially hard hit. Two thirds of victims were aged over 60, according to an initial survey of 2,800 identified victims in five prefectures by the Yomiuri Shimbun.
Because of fuel shortages at crematoriums, and a shortage of coffins, some communities in worst-hit Miyagi prefecture have had to forego Japan's elaborate funeral rites to bury their loved ones in mass graves.