TOKYO, Sept 27, 2010 (AFP) - Japan on Monday demanded China withdraw two fishery patrol boats from near a disputed East China Sea island chain and summoned Beijing's envoy over access to four detained Japanese nationals.
Two Chinese vessels "are nearing the waters around the Senkaku islands but have not entered Japanese territorial waters, as coastguard vessels are on guard against their entry," said Chief Cabinet Secretary Yoshito Sengoku.
He was referring to the islands at the centre of the row, which are called Diaoyu by China.
Japan had asked China four times to withdraw the ships, he said.
An official with the China Fisheries Law Enforcement Command told AFP on Monday that two ships had headed to the area last Thursday.
Meanwhile, Japan's Foreign Minister Seiji Maehara summoned the Chinese ambassador, Cheng Yonghua, to demand regular access to four Japanese nationals who have been detained by China for the past week, Jiji Press reported.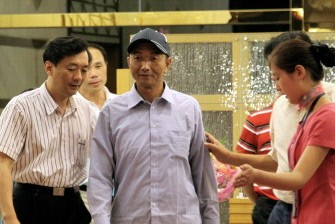 Chinese fishing boat captain Zhan Qixiong (C), who was arrested after his trawler collided with two Japanese coast guard vessels in the East China Sea, arrives at the Fuzhou airport in Fujian province on September 25, 2010 after he was released from police custody on Ishigaki island in Okinawa. AFP