PHNOM PENH, May 1, 2009 (AFP) - Japan has made a fresh donation of four million dollars to the UN-backed Khmer Rouge court, according to a statement seen Friday, sustaining the Cambodian court until the end of the year.
The statement from the Japanese embassy in Phnom Penh said the country, already the tribunal's biggest donor, would contribute 4,171,000 dollars to finance the trial budget after a request from the Cambodian government.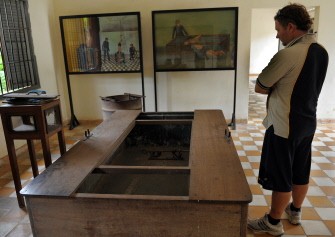 A foreign tourist looks at torture equipment displayed at the Tuol Sleng genocide museum in Phnom Penh on April 29, 2009. The former Khmer Rouge prison chief on April 29 denied he waterboarded or suffocated detainees as he detailed his torture techniques to Cambodia's UN-backed war crimes trial. (AFP photo)
"Japan places a great emphasis on the progress of the Khmer Rouge tribunal, as it believes that this process will promote peace, democracy, the rule of law and good governance in Cambodia," the statement said.
Under a complicated agreement, Cambodian and international staff have separate budgets funded by countries including Japan, France, Australia and Germany.
"It will support the Cambodian side to function until at least the end of this year... so we can move forward to focus on the judicial functioning of the court," tribunal spokeswoman Helen Jarvis told AFP.
The court's first trial is under way, but the Cambodian side has been hit by claims of political interference and a scandal in which local staff were allegedly forced to pay kickbacks for their jobs.
The on-going first Khmer Rouge trial began in February, when the regime's notorious prison chief, Kaing Guek Eav, better known by the alias Duch, went before the court.
Up to two million people died of starvation and overwork, or were executed by the Khmer Rouge, which dismantled modern Cambodian society in its effort to forge a radical agrarian utopia.