OSAKA, Japan, March 20, 2011 (AFP) - Japan's top government spokesman on Sunday signalled that the quake-hit Fukushima nuclear power plant at the centre of an ongoing crisis following a series of explosions would be scrapped.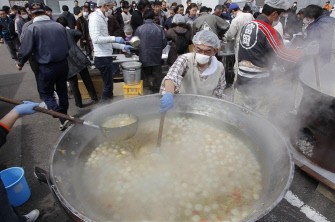 Evacuees receive Tonjiru, a pork and vegetable soup, after voluntees prepared over 2,000 servings at a shelter in Koriyama, Fukushima prefecture on March 20, 2011. AFP
The reactor cooling systems at the Fukushima No. 1 plant, located 250 kilometres (155 miles) northeast of Tokyo, were crippled by the 9.0-magnitude earthquake and tsunami that rocked Japan's northeast coast on March 11.
A series of explosions and fires followed. Crews and emergency personnel have since worked around the clock to try to bring the temperatures down to avert a potentially catastrophic meltdown.
"As the government has (nuclear energy) authorities, it's difficult for me to say anything definite before following the appropriate procedures," the spokesman, Yukio Edano, told reporters.
"Looking at the plant from an objective point of view, I think it's clear in a way if the Fukushima Daiichi (No. 1) plant is in a state of being able to function or not," he said.
"I hope you can get it from the way I said it."