Japan will halt its Antarctic whaling mission for the rest of the season because of harassment by environmentalists on the high seas, a government minister said Friday.
Activists from the US-based militant environmental group the Sea Shepherd Conservation Society have pursued the Japanese fleet for months in a bid to stop its harpoon ships from killing the giant sea mammals.
"To ensure the safety of crew members' lives, of assets and of the research fleet, the government is compelled to end the research," farm and fisheries minister Michihiko Kano told a news conference, citing harassment by Sea Shepherd vessels.
Jiji Press news agency quoted Kano as saying the factory ship the Nisshin Maru was "being chased, and it is difficult to ensure the safety of the crew members."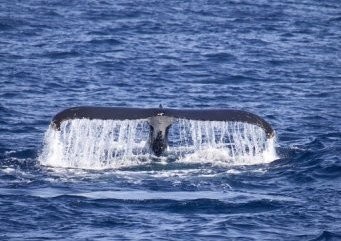 Japan will halt its Antarctic whaling mission for the rest of the season because of harassment by environmentalists on the high seas, farm and fisheries minister Michihiko Kano said Friday
Sea Shepherd hailed the announcement, but pledged they would not give up shadowing the vessels.
"It's great news," group founder Paul Watson told AFP. "We will however stay with the Japanese ships until they return north and make sure that they're out of the Southern Ocean whale sanctuary."
Japan kills hundreds of whales a year under a loophole in a 1986 moratorium on commercial whaling that allows "lethal research".
The government has long defended the practice as part of the island-nation's culture and makes no secret of the fact that the meat ends up in restaurants.
Anti-whaling nations, led by Australia and New Zealand, and environmental groups call the hunts cruel and unnecessary.
Greenpeace has long argued the state-financed whale hunts are a waste of taxpayers' money, producing excess stockpiles of whale meat.
Sea Shepherd activists have pursued whalers in recent years, moving their ships and their inflatable and speed boats between the harpoon vessels and the sea mammals, and throwing stink and paint bombs at the whaling ships.
Japan's Fisheries Agency said Wednesday it had suspended operations since February 10 and was considering recalling the fleet a month before its usual return in mid-March.
Anti-whaling groups cheered the news Friday.
"Cooler heads in Tokyo have certainly prevailed," said Patrick Ramage, director of the Global Whale Programme at the US-based International Fund for Animal Welfare.
"It's certainly good news for whales and all those people around the world who care about them."
Ramage said the news may indicate that the centre-left government that took power in 2009, ending a half-century of conservative rule, is more aware of the diplomatic and economic cost of whaling, and less beholden to the bureaucrats who want to continue it.
"It's not the end of Japanese whaling, and it's not the beginning, but it might be the beginning of the end of commercial whaling in an international sanctuary," he said.