TOKYO, Aug 3, 2011 (AFP) - Japan passed a law Wednesday to create a state-backed entity that will pay damages worth tens of billions of dollars to the victims of the Fukushima nuclear disaster.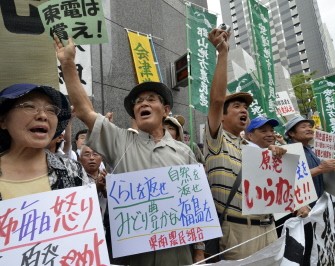 AFP - Farmers from Fukushima prefecture raise their fists in the air to protest at a rally in front of the headquarters of the Tokyo Electric Power Company (TEPCO) in Tokyo on August 3, 2011
The government is expected to pitch in an initial 2 trillion yen ($26 billion) in the form of special government bonds, Kyodo News has reported, but the eventual cost is expected to be far higher.
Under the bill, which passed through the upper house, embattled operator Tokyo Electric Power Company (TEPCO) and other atomic power companies will also pay into the fund, which will then compensate the victims.
The world's worst nuclear disaster since Chernobyl 25 years ago has forced the evacuation of more than 80,000 people from a 20-kilometre (12-mile) zone around the tsunami-hit plant and more from radiation hotspots beyond.
The nuclear crisis, sparked by the powerful March 11 quake and tsunami, has also heavily impacted the farm, fisheries and tourism sectors.
The law did not spell out how much money the new body would receive and, although it called for "cooperation from shareholders and other interested parties", it did not say what this would mean in detail.
It said TEPCO, whose share price has plummeted 80 percent since the quake, would have to eventually pay back all funds it receives from the body. The utility would also be restructured under government supervision.
The government and TEPCO have faced harsh criticism for slow progress in distributing compensation and aid money to residents, farmers and businesses near the plant who had to flee to escape nuclear contamination.
Anger is also growing about the radiation impact in the wider region.
About 300 farmers on Wednesday staged a noisy protest outside TEPCO's Tokyo headquarters, yelling, "Return our life, return a green Fukushima", and waving signs that read: "No excuse, show your sincerity and compensate us."
Many of them were cattle farmers who have lost their livelihoods since radioactive caesium was detected in cows fed contaminated hay, leading to bans on beef shipments from four prefectures.
TEPCO, one of the world's biggest power companies, supplies Tokyo and the Kanto region, which is at the heart of the world's third-biggest economy and accounts for more than one third of Japan's gross domestic product.