OSAKA, March 28, 2011 (AFP) - Japan lifted a tsunami warning after a 6.1-magnitude earthquake hit off the northeast coast of Japan on Monday, the weather agency said.
The Japan Meteorological Agency had earlier issued a 50-centimetre (18 inch) tsunami warning for the Pacific coast of Miyagi prefecture, which was devastated by the huge earthquake and tsunami that hit on March 11.
The US Geological Survey had earlier alerted a 6.5-magnitude earthquake but then downgraded its strength. The epicenter was at a depth of 17 kilometres, it added.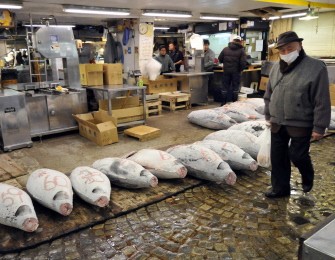 Frozen bluefin tuna are displayed at Tokyo's Tsukiji fish market on March 28, 2011. Famous for its noisy pre-dawn tuna auctions and air of organised chaos, the market has seen sellers standing idle as demand for seafood and other food products slides amid global worries about Japanese produce after a nuclear scare. AFP
Japan's weather agency said that the quake was likely an aftershock of the massive tremor more than two weeks ago, and warned of more to come.