TOKYO, Sept 12, 2010 (AFP) - Japan has filed a complaint with China after Beijing called off planned talks on oil and gas fields in the East China Sea amid growing tensions between the two Asian rivals, an official said Sunday.
"The Japanese government regrets that China unilaterally announced it would postpone the talks," said a foreign ministry official. "The government conveyed the message to Beijing through diplomatic channels on Saturday."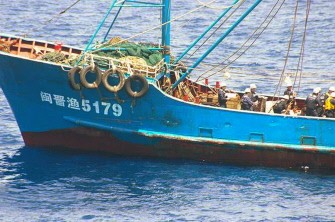 A handout picture released from Japan Coast Guard on September 8, 2010 shows a Chinese fishing boat, which was seized by Japan Coast Guard's patrol boat near a disputed island on September 7. AFP
China late Friday called off the planned talks, which had been scheduled for later this month on issues relating to the East China Sea, in protest at the way Japan has handled an incident in disputed waters.
The latest row between the two countries began on Tuesday when a Chinese trawler and two Japanese coast guard vessels collided near an island chain in the East China Sea claimed by both sides.
Tokyo suspects the trawler's captain, 41-year-old Zhan Qixiong, deliberately rammed the two Japanese vessels in a confrontation near the disputed islets and arrested him on suspicion of obstructing officers on duty.
The charge carries a maximum sentence of three years' imprisonment.
A Japanese court on Friday extended Zhan's detention for up to 10 days, until September 20. One more 10-day extension can be granted under Japanese law. His crew is also in custody.
Beijing has warned Tokyo of "serious impact" on ties if the trawler and its crew are not released, summoning the Japanese ambassador to China in the early hours of Sunday for the fourth time over the issue.
The uninhabited islands -- known as Senkaku in Japan and Diaoyu in China -- lie between Japan's Okinawa island and Taiwan. They are claimed by Tokyo, Beijing and Taipei.
Territorial disputes in the East China Sea have repeatedly led to strains in Sino-Japanese ties. There are four controversial Chinese gas fields in the sea that Japan says extend into its own exclusive economic zone (EEZ).
The postponed talks were intended to follow on from discussions held in Tokyo in July on plans by Asia's top two economies to jointly exploit oil and gas fields in the disputed seas.
In another confrontation in an area of the East China Sea which Japan says falls within its EEZ, China engaged two Japanese survey vessels on Saturday and ordered them to cease operations, the Japan Coast Guard said.
Japan has also lodged a complaint about the incident, adding that its ships had been able to carry on their work, the coast guard said.