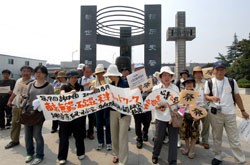 Members of a Japanese anti-war group from Kobe pay a visit the Victims of the Nanjing Massacre memorial hall in Nanjing, in eastern China's Jiangsu province, August 15, 2006 (AFP Photo)
Japan got to work Wednesday to patch up ties with Asian neighbors once Prime Minister Junichiro Koizumi steps down next month as the fall-out continued from his visit to a controversial war shrine.
Koizumi, in a defiant parting shot, prayed Tuesday at the Yasukuni shrine, which honors war dead and war criminals, on the most sensitive date possible -- the anniversary of Japan's World War II surrender.
Most major newspapers chastised Koizumi for provoking China and Republic of Korea (RoK), but a poll showed that a majority of Japanese supported the flamboyant populist, who complained he was fed up with foreign criticism.
China and RoK, which harbor deep bitterness over past occupation, have shunned Koizumi due to his shrine visits, but media here characterized their latest protests against the lame-duck premier as more low-key.
RoK made clear it was looking to the future, warning it would also refuse to meet Koizumi's successor if he visited the Shinto shrine.
"Whoever becomes Japan's next prime minister, we will keep our stance that Japan should show its efforts to earn trust from the international community by actions," said Suh Choo-Suk, senior presidential secretary for national security.
Chief Cabinet Secretary Shinzo Abe, the front-runner to succeed Koizumi in a September 20 vote by the ruling party, has strongly supported visits to the Yasukuni shrine but has refused to say if he would go as premier.
The Japanese foreign ministry has begun trying to arrange summits with China and RoKto take place as soon as Koizumi's successor is named by the ruling party on September 20, the Yomiuri Shimbun newspaper reported.
The foreign ministry hopes the new premier could meet presidents Hu Jintao of China and Roh Moo-Hyun of RoKon the sidelines of the Asia-Pacific Economic Cooperation (APEC) forum in Vietnam in November, the Yomiuri said.
Koizumi has gone once a year to the Yasukuni shrine, which was a spiritual pillar for Japanese nationalists during World War II, but had never gone before on August 15.
"It looked like a political show in which Prime Minister Koizumi swaggeringly told the television cameras, 'Hey, we're not going to let China have its way,'" the Nihon Keizai Shimbun business daily wrote in an editorial.
But a poll found that 51.5 percent of voters supported Koizumi's visit while 41.8 percent disapproved. The rest were undecided or gave other responses.
Opinions were more evenly divided on Koizumi's successor.
A total of 44.9 percent wanted the next premier to visit the shrine, against against 39.6 percent who believed the next premier should go, said Kyodo News, which surveyed 1,473 eligible voters of whom 1,001 replied.
In a sign of the divisions over the shrine, police said Wednesday an ultra-nationalist was suspected of setting fire to the home of a politician who criticized Koizumi's pilgrimage.
The man was found collapsed with a knife wound in his belly in the house of Koichi Kato, a former secretary general of the ruling Liberal Democratic Party, who was in Tokyo at the time of the incident.
"I have felt something strange about our society in recent years. It will be alarming if politicians cannot speak freely," Kato said as he toured his burned-out house in central Yamagata prefecture.
Communist North Korea, a top bugbear for Japanese nationalists, joined the regional uproar, calling Japan a "cancer-like entity" in Asia and warning the shrine visit threw back relations from "bad to worse."
Koizumi, who flew twice to Pyongyang in peacemaking bids, leaves office without accomplishing his goal of normalizing ties. Abe, by contrast, rose to prominence by taking a hard line on North Korea.