OSAKA, March 30, 2011 (AFP) - Japan is considering draping crippled reactor buildings at the Fukushima nuclear plant with a fabric to reduce radiation, and using a tanker to siphon off contaminated water, a report said Wednesday.
The government did not explicitly confirm the report, but Chief Cabinet Secretary Yukio Edano said Japan's leaders and nuclear experts were discussing "every possibility, including those mentioned in the press".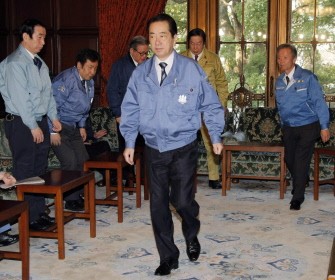 Japanese Prime Minister Naoto Kan leaves a cabinet meeting at the National Diet in Tokyo on March 30, 2011. Kan said he was resolved to explore alternative energy sources to power Japan. AFP
The government is tabling multiple options in its struggle to control overheating reactors that have leaked radiation into the air and water since the March 11 earthquake and tsunami, the Asahi Shimbun daily reported.
One possibility is to cap reactors one, three and four with a special fabric to cover roofs and walls knocked out or damaged by a series of hydrogen explosions, the Asahi Shimbun reported, citing unnamed government officials.
The report did not specify what type of material may be used to limit the radiation, but said authorities were also considering installing filtered ventilators inside to remove gas buildup and avert further blasts.
Another plan is to anchor an empty tanker near the water outlet off the number two reactor, where highly radioactive water has flooded the basement of the adjacent turbine building and an underground tunnel, the Asahi said.
Workers have pumped some of the water into containers that are now full and have searched for ways to safely dispose of water -- equal to more than two Olypmic-sized swimming pools -- still in the tunnel system near reactor two.
A 9.0-magnitude earthquake and tsunami battered Japan's northeastern coast, wiping out entire communities, and triggering the worst nuclear crisis since Ukraine's Chernobyl in 1986.