TOKYO, Feb 19, 2009 (AFP) - Japan's embattled Prime Minister Taro Aso apologised Thursday for the finance minister who resigned after appearing drunk at a press conference, a debacle which triggered a political firestorm.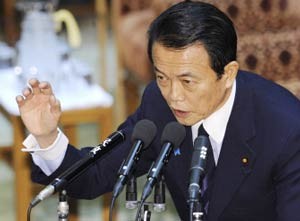 Japanese Prime Minister Taro Aso answers a question at the Lower House's budget committee session at the National Diet in Tokyo on Feb. 19 (Photo: AFP)
"I truly regret that, while parliament is deliberating budget bills, the finance minister in charge of them had to be replaced," Aso told the lower house budget committee, where he faced a grilling by opposition lawmakers.
"The responsibility for appointing him as a cabinet minister resides with me, of course," he said.
Shoichi Nakagawa blamed cold medicine for his incoherent replies and drowsy appearance at a press conference following a meeting of the Group of Seven in Rome last weekend.
"I understand that the former minister stepped down not because of a lack of capability but because of his health problem," Aso said in defending Nakagawa, a close ally of the conservative premier.
The political blunder piled further pressure on Aso, already unpopular for a series of policy flip-flops and gaffes, whose cabinet approval rating dipped below 10 percent in one poll this week.
The main opposition group, the Democratic Party of Japan, has threatend a symbolic censure motion against Aso, who facces elections by September.
A junior LDP lawmaker, Masazumi Gotoda, on Wednesday openly called on the premier to step down.
"I want Prime Minister Aso to make a decision on his course of action by himself and, if possible, hand over the post to younger generations," he said.