Japan's premier faced an uphill battle Monday to push through promised reforms, from reviving the economy to whittling down massive public debt, after his party's electoral mauling at the weekend.
Naoto Kan, who took office just a month ago as Japan's fifth leader in four years, suffered a heavy blow when his centre-left Democratic Party of Japan (DPJ) lost the upper house of parliament in an electoral rout Sunday.
The result, worse than predicted by opinion polls and pundits, signalled that the world's number two economy is in for another stretch of weak leadership as it seeks to end two decades of economic stagnation.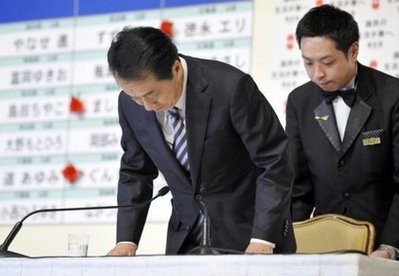 Japanese Prime Minister Naoto Kan, head of the ruling Democratic Party of Japan (DPJ), bows as he arrives at the DPJ election campaign headquarters in Tokyo on July 11, 2010
The outcome was a slap in the face for the DPJ, which ousted the conservative Liberal Democratic Party (LDP) in an election triumph last summer, only to squander much of its political capital within 10 months in office.
"We are faced with harsh criticism. We will sincerely accept that," Kan's top spokesman, Chief Cabinet Secretary Yoshito Sengoku, told a news conference.
Sengoku said he wants to open talks with opposition parties, saying: "On many issues our outlook is not sharply different. We will seek consensus through debates."
According to exit polls, the DPJ has emerged with only 106 seats in the 242-seat chamber -- far below the 122 needed for a majority, although it still controls the lower house.
"Japan is stuck in a dense fog," said Takayoshi Shibata, politics professor emeritus at Tokyo Keizai University.
"There will be confusion" as the DPJ looks for new coalition partners to restore its majority in the upper house and enable it to easily pass laws through the Diet legislature, he said.
"This hung situation shouldn't continue for too long. I believe somebody needs to break this impasse but the question is, who can?"
Smaller groupings such as Your Party, one of the biggest winners in the poll, have been named as possible coalition partners, but its leader Yoshimi Watanabe has so far rejected a tie-up with the wounded DPJ.
The prospect of political deadlock drove the yen lower in morning trade and kept Tokyo stocks flat.
Kan took over in early June from the DPJ's first premier Yukio Hatoyama, who had led the party into power last August after half a century of conservative rule but quickly lost favour with voters for his indecisive leadership.
When Hatoyama stood down amid political funding scandals and a bungled row over a US airbase, his former finance minister Kan signalled a more pragmatic and less ideological style.
Kan shifted his focus from the damaging US base row to the problem of Japan's massive public debt, which is nearing 200 percent of gross domestic product, warning of the risk of a Greece-style financial meltdown.
But his tough-love comments on the need to raise the consumption tax turned off many voters. Kan compounded the damage when he appeared to backpedal on the issue, which left him open to charges of Hatoyama-style indecisiveness.
"The biggest reason for the DPJ's defeat is Prime Minister Kan's handling of the issue of a consumption tax," the Yomiuri Shimbun newspaper said.
"He failed to provide a full explanation about why the tax rate should be raised and how it should be used."
The Nikkei business daily said that, nonetheless, Kan must push on with his fiscal reform agenda, pointing at the need to fix state finances in the rapidly ageing society that will face a huge state pension burden in future.
"Many voters share the view that a consumption tax hike is inevitable, to secure funds for social security programmes," it said. "The election defeat must not cause the Kan government to backpedal on the consumption tax issue."
Some pundits and newspaper editorials have even raised the prospect of a grand coalition between the two major parties, saying that most of their legislators, despite election-time animosity, actually share similar values.