TOKYO, Dec 24, 2008 (AFP) - Japan's beleaguered Prime Minister Taro Aso said Wednesday he would not call an election for now, saying his government needed to focus on fighting the economic crisis.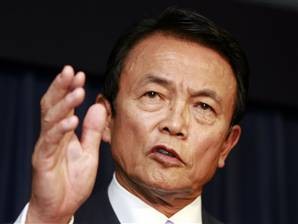 Prime Minister Taro Aso
"I'm well aware of talk about elections or a political realignment," Aso told a news conference as he presented his government's budget proposal.
"Now that we are in the midst of a once-in-a-century crisis, we are not in a position to talk about such things. I think it's impossible," he said.
Aso, who took office three months ago, needs to hold an election by September next year.
His government's approval rating has plunged below 20 percent in recent polls, with voters giving more support to the opposition than Aso's long-dominant Liberal Democratic Party (LDP).
Aso called on the opposition, which controls the less powerful upper house of parliament, to approve quickly his record 88.55 trillion yen (980 billion dollar) budget for fiscal 2009.
"This shall decide the economy and the future of Japan. The parliament's decision-making capability will be put to a test," Aso said.
"What the public ask of the parliament, I believe, is whether it can protect the lives of people from this economic crisis. The will and the resolve of the parliament is being challenged."
The LDP has been in power for all but 10 months since 1955. But its popularity has rapidly dwindled due to scandals, gaffes and concerns over the handling of the economy, the world's second largest.
Aso is the fourth prime minister from the LDP to lead Japan since 2006.