Japanese Prime Minister Naoto Kan on Sunday rejected China's call for an apology and compensation for the detention of a Chinese trawlerman, Jiji Press and Kyodo News reported.
The Senkaku islands are Japan's own territory. From this viewpoint, compensation is unthinkable," Kan told reporters in Tokyo, according to Jiji.
Beijing has made repeated calls for an apology and compensation from Tokyo over what it called the "unlawful" detention, demanding "practical steps" to resolve the diplomatic row.
The arrest on September 8 of the Chinese skipper, whose vessel rammed Japanese patrol boats in disputed waters near the island chain in the East China Sea -- known as Senkaku in Japan and Diaoyu in China -- sparked a diplomatic row between the two Asian giants.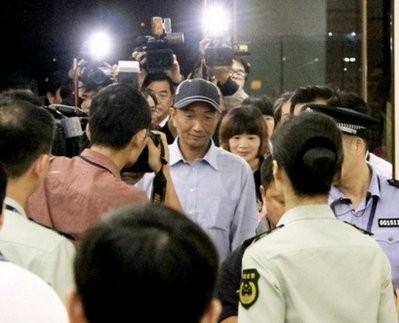 Chinese fishing boat captain Zhan Qixiong (centre), who was arrested after his trawler collided with two Japanese coast guard vessels in the East China Sea, is seen arriving at Fuzhou airport in China on September 25, 2010.
Japan announced Friday it would free the trawlerman but said the decision was made solely by prosecutors, insisting the island chain belongs to Tokyo.
Japanese prosecutors cited the deepening rift between Beijing and Tokyo in their decision to release the skipper.
The Japanese government has faced accusations that it caved in to bullying by China over the decision to release the captain, Zhan Qixiong, who arrived home Saturday morning.
Speaking to reporters on the sidelines of the UN General Assembly in New York, Kan said Saturday there had been no political interference in prosecutors' move to free him.