TOKYO, May 21, 2009 (AFP) - Japanese Prime Minister Taro Aso on Thursday again urged the public to stay calm as a total of 281 swine flu cases were reported, including the first in greater Tokyo, the world's largest urban area.
Railway staff on some train lines in and around the capital were asked to wear face masks and passengers were urged to do the same.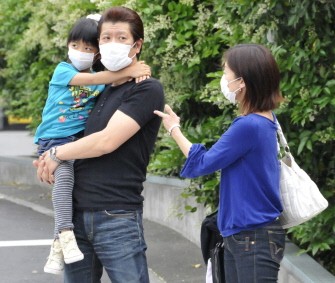 A Japanese family wears face masks in Tokyo on May 21, 2009 (AFP photo)
Public broadcaster NHK and Kyodo news agency reported that the total number of A(H1N1) cases in Japan had reached 281, slightly ahead of the latest official health ministry tally of 276 cases by noon.
Authorities in two western prefectures have closed more than 4,800 schools, colleges and kindergartens at least for the rest of the week to slow the spread of the virus, the education ministry said.
A 16-year-old girl from Hachioji, west of Tokyo, became the first confirmed case in the capital area, which is home to around 36 million people, followed by a second female student hours later, the metropolitan government said.
The two girls from the same Kawasaki school were among a school group who travelled to New York from May 11 to 18 to join a mock United Nations conference with 2,300 international students, officials said.
East Japan Railway (JR East) required its employees at 26 stations in the Hachioji and Kawasaki areas to wear masks and called on passengers to follow suit, wash their hands often and gargle.
There have been no fatalities from the virus in Japan and most cases have been mild, health officials have stressed.
In a government television advertisement, a female voice says "we do not have to fear this influenza if we receive early treatment." Premier Taro Aso then faces the camera and says: "I ask for your calm response."
Masato Tashiro, a Japanese virologist on the WHO emergency panel, told reporters in Geneva that it was "no surprise" to see flu cases in Tokyo, adding that "quarantine control cannot be 100 percent perfect."