TOKYO, Feb 23, 2011 (AFP) - Relatives in Japan and South Korea feared the worst Wednesday for 25 students missing in New Zealand after an earthquake turned the Christchurch language school they attended to rubble.
New Zealand police said a day after the powerful quake that they had abandoned hope of finding more survivors in the collapsed six-storey building that housed an English language school, the King's Education College.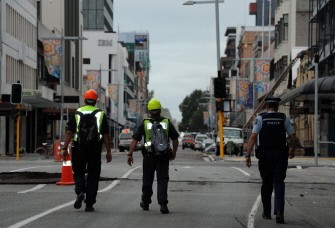 Police patrol the "deserted city" streets of the exclusion zone on February 23, 2011 in Christchurch. AFP
A Japanese language school and a study tour agency each reported that 10 students who attended the college were missing, while other agencies listed three more Japanese as unaccounted for.
Two South Korean students -- a brother and a sister aged in their early 20s -- were also missing feared trapped, said the foreign ministry in Seoul.
The father of one missing Japanese student -- a girl identified as Saori Kikuda from the Toyama College of Foreign Languages in central Japan -- told reporters of his fears for his daughter.
"My daughter was looking forward to going to New Zealand," he said of her month-long group study visit. "The only thing I can do now is pray. There is no doubt she is trapped under the rubble."
In New Zealand, police operations commander Dave Lawry said of the Canterbury TV building that housed the school: "The situation is that we don't believe this site is now survivable."
"This particular site, CTV site, had a number of overseas students in it and my heart goes out to those families that are away knowing that some of their children, family, have probably been killed in this incident."
Another Japanese tour agency, Kyoto-based M.I. Studies Abroad, said it had lost contacts with two students -- Miki Hayasaka, 37, and Noriko Otsubo, 41 -- both nurses who were learning medical English at King's.
Otsubo is from the city of Kobe, which suffered a devastating quake in 1995 that killed more than 6,000 people.
Her father was quoted as telling the Yomiuri Shimbun daily: "If she is buried in the collapsed building, I wish I could remove the rubble, even a piece or two, to help her out.
"She has such a strong spirit and works so hard for everything. I believe she will survive."
Several Japanese students and their female teacher were rescued from the rubble, including a 19-year-old male student surnamed Okuda, from Toyama, whose crushed leg had to be amputated.
He was having lunch with other students when the tremor hit and the floor fell away, he told the Asahi Shimbun newspaper, which carried a photo of the boy flashing a victory sign in his hospital bed.
Under the rubble "I realised I couldn't move in the dark because my left leg was caught in something," he said.
"A teacher also trapped with us encouraged us and said, 'We'll all survive and go home'.... I called my brother with my mobile and had him inform the embassy that we were there."
Japan, hoping for more survivors, dispatched a 70-strong team of earthquake rescue specialists and paramedics, with sniffer dogs and fibre optic cameras Wednesday, to assist in the search from Thursday.
Like New Zealand, Japan sits on the "Pacific Ring of Fire", a zone of high seismic activity, and is often hit by powerful earthquakes.
Japan's Prime Minister Naoto Kan said at an emergency cabinet meeting that he expected the team "to rescue as many people as possible".
A staff member at tour operator M.I. Studies Abroad explained that New Zealand was popular among Japanese students because it was considered a reasonably priced option among English-speaking countries.
"Especially Christchurch was cheaper to stay in and more popular," she said.