TOKYO, Sept 24, 2010 (AFP) - Japan said Friday it would free a Chinese fishing boat captain whose arrest in disputed waters over two weeks ago sparked the worst row in years between the Asian giants.
Prosecutors cited the deepening rift between Beijing and Tokyo in their decision to release the captain who was arrested after his boat collided with two Japanese coastguard vessels in the East China Sea.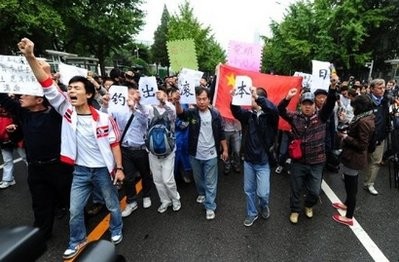 AFP file - Anti-Japanese protesters shout slogans while marching past the Japanese embassy in Beijing.
"Considering the impact on Japan's people and the Japan-China relationship, we decided it would not be worth continuing detaining and investigating the captain," said Naha district deputy chief prosecutor Toru Suzuki.
The Chinese captain, Zhan Qixiong, 41, had acted on the spur of the moment and not committed a premeditated criminal act, and he had no prior criminal record in Japan, said Suzuki in a televised press conference.
Public broadcaster NHK, also citing prosecutors, reported that "the Chinese captain will be sent back to China", while adding it would take time because formalities had to be ironed out.
The top spokesman for Japan's centre-left Prime Minister Naoto Kan, who was at the UN General Assembly in New York, said the decision was taken by prosecutors alone, and not because of political pressure.
But the conservative opposition was quick to lash out at what it saw as a loss of face for Japan, which has been overtaken by traditional rival China as the world's number two economy.
"It was an extremely foolish decision," said hawkish former prime minister Shinzo Abe of the Liberal Democratic Party, Jiji Press reported.
"It was clear as day that it was an intrusion into (Japan's) territorial waters. Japanese politics caved in to pressure from China."
The row started when Japan's coastguard arrested the captain on September 8 after his trawler collided with two of their patrol boats near a disputed island chain, called Senkaku by Japan and Diaoyu by China.
The collisions caused no injuries, but the diplomatic damage was severe.
In the ensuing row, China issued a series of harsh diplomatic protests, summoned Japan's ambassador Uichiro Niwa six times, once after midnight, and cancelled official visits and joint cultural events.
Japan on September 13 released the ship's 14 Chinese crew and allowed them to fly home on a Chinese government-chartered plane, but Beijing the same day protested that the skipper was still being held.
Chinese Premier Wen Jiabao this week threatened "further actions" and warned on Thursday: "China will never give in or compromise on matters including national sovereignty, unity and territorial integrity."
Even after Japan said it was releasing the captain, Beijing's foreign ministry again called Tokyo's decision to detain him "illegal and invalid".
Amid the row China has also blocked exports of rare earth metals, used in products from iPods to electric cars, to Japan, according to traders, a claim Beijing has denied.
As the dispute has escalated, the United States repeatedly urged both nations to resolve the dispute through dialogue.
Further ramping up tensions, China this week detained four Japanese nationals who were working on a bid for a project to clear up chemical weapons left from the Japanese occupation before and during World War II.
Japan has pressed for diplomatic access to its four, who were detained in northern Hebei province for entering a restricted military zone and "illegally filming defence targets", according to China's Xinhua news agency.
Their employer, construction company Fujita, said they had been visiting the city of Shijiazhuang but could not be reached since one of their staff had text-messaged the single word "help" on Tuesday.
Memories of the two nations' troubled past has fuelled the row.
Last weekend, on the anniversary of Japan's 1931 invasion of Manchuria, small groups of anti-Japanese demonstrators rallied in three Chinese cities, although the protests were brief and peaceful.
In Washington's highest-level expression of concern, Secretary of State Hillary Clinton said in talks with Japanese Foreign Minister Seiji Maehara on the UN sidelines in New York that Washington wanted a negotiated settlement.
Clinton sought to "encourage dialogue and (voiced) hope that the issue can be resolved soon", her spokesman Philip Crowley said, adding Japan-China ties "are vitally important to regional stability".