Three Japanese leading travel, logistics and retail groups have joined hands to promote consumption demand of Southeast Asian visitors, including Vietnamese, according to Nikkei newspaper, Vietnam News reported in Tokyo.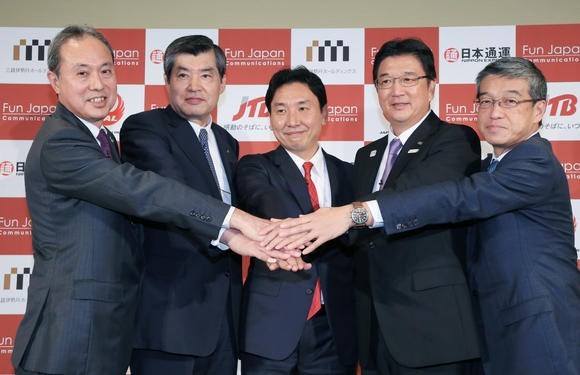 Leaders of three enterprises announce the establishment of a joint venture (Photo: nikkei.com)
Travel agency JTB, Nippon Express and retailer Isetan Mitsukoshi Holdings (HD) announced the establishment of a joint enterprise, capitalised at 1 billion JPY (9.63 million USD) on October 18. JTB has a 50-percent stake, while Nippon Express and HD hold 40 percent and 10 percent, respectively.
The joint venture is expected to supply products and travel services online. Nippon Express website serving 3 million users will be used to collect order forms, and products selected at HD retail stores will delivered via Nippon Express' distribution network. Meanwhile, JTB will provide more travel programmes and services to promote Japanese goods.
Japan has seen a sharp rise in foreign visitors, especially those from Southeast Asia, with the numbers of Indonesian, Malaysian and Vietnamese tourists in August jumping 30.9 percent, 26 percent and 24.9 percent year-on-year respectively.
There were 16 million visitors going to Japan over the last eight months and their overall spending in the April-June period increased about 7 percent against last year, but per-capita spending dropped 10 percent.
Earlier in March, Japanese government set a target of boosting foreign tourist spending to 8 trillion JPY (77.3 billion USD) by 2020, doubling the 2015 level.