Japan's new cabinet on Sunday signalled the government would soon unveil comprehensive financial measures to try and erase fears of a recession in the world's second-largest economy.
Prime Minister Yasuo Fukuda named a team filled with heavyweights on Friday, vowing to jump-start the country's fortunes and in a last-ditch effort to revive his waning public support.
Newly-appointed Finance Minister Bunmei Ibuki said Japan had taken necessary steps, including last month's 74.5-billion-yen (692-million-dollar) package to help fishermen amid soaring fuel costs.
"But I think we have to take additional measures," Ibuki told a news programme at Japan's public broadcaster NHK.
Trade minister Toshihiro Nikai told the news programme that the government "should take a supplementary budget into consideration" to pay for the planned package.
"The impact of oil prices on local economies is extremely big," Nikai said. "This is the subject the entire government should handle with all its might."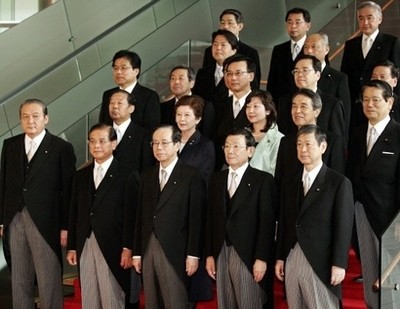 Japanese Prime Minister Yasuo Fukuda (frint centre) with newly appointed cabinet.
Local media said the cabinet would begin full discussions on Monday, aiming to announce the economic measures as early as September.
They will include steps to tackle rising oil prices and support for small businesses as well as people engaged in fishery, forestry and farm industries, the Nikkei business daily said.
On Saturday, Fukuda vowed to fight price hikes, saying: "I will firmly take emergency measures for people who are seriously affected by abnormal oil prices."
Public support for Fukuda's government has risen according to one poll released Sunday, but other surveys indicated that the reshuffle has done little for his popularity.
The approval rating of the premier's new cabinet recovered to 41.3 percent with disapproval rating at 47 percent, according to a survey conducted by the Yomiuri Shimbun immediately after the ministerial changes.
The telephone poll covered 1,745 eligible voters of whom 1,006, or 57.7 percent, gave valid responses, Yomiuri said.
In a similar survey carried out by the newspaper on July 12-13, the approval rating for Fukuda's previous cabinet stood at 26.6 percent and the disapproval rating was 61.3 percent.
But the Asahi Shimbun said in its poll that support for Fukuda's team remained unchanged at 24 percent from last month, while the disapproval rate declined to 55 percent from 58 percent.
The daily carried out the survey on Friday and Saturday, covering 1,002 eligible voters of whom 58 percent gave valid responses.
The popularity of the 72-year-old centrist had plunged since he took over last September as voters have been left feeling worse off than a year ago because of rising global oil and food prices.