Jewish immigration to Israel continued to slide in 2007 with the number of newcomers at just 19,700, the lowest level in 20 years, according to figures published on Monday.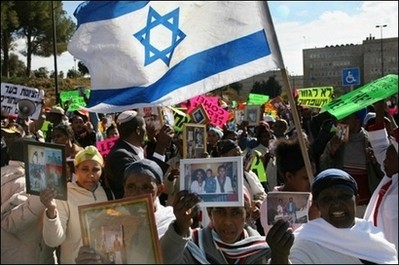 Israelis from the Ethiopian community hold up photographs of their relatives in front of Prime Minister Ehud Olmert's office in Jerusalem, 18 December 2007(Photo: AFP)
Immigration was down six percent from 2006, the immigrant absorption ministry said.

The number of immigrants from former Soviet countries, which made up 30 percent of all newcomers, dropped 15 percent from 2006.

Zeev Bielsky, the head of the Jewish Agency in charge of bringing in immigrants to the Jewish state, expressed concern over the falling numbers.

Diaspora Jews today "have fewer reasons to leave their countries of origin" as Israel has become "less attractive as a land of immigration," he told army radio.

Numbers from former Soviet countries have declined because the economic situation in Russia has improved and Jewish communities there are flourishing, he added.

Immigration from France has also fallen following the election as president of Nicolas Sarkozy, whose "popularity in the Jewish community gives it a better sense of security." One of Sarkozy's grandparents was Jewish.

Israel's Law of Return allows anyone who is Jewish or has a Jewish spouse, a Jewish parent or a Jewish grandparent, to obtain Israeli citizenship.