Angelina Jolie says she is sorry her adoption of a Vietnamese boy has thrown him into the global media glare but will ensure he stays in touch with his culture, a news report said Friday.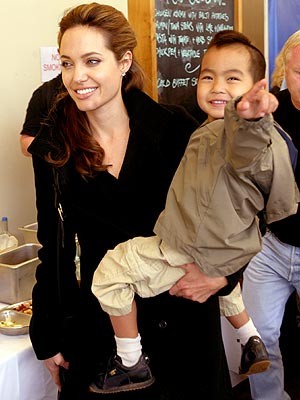 Jolie and Maddox
The Hollywood star on Thursday picked up three-year-old Pham Quang Sang from his orphanage in Ho Chi Minh City and said she wants to rename him Pax Thien, combining the Latin word for peace and the Vietnamese word for heaven.
"Pax is only three years old, and he spent his childhood in the orphanage," said the 31-year-old superstar and partner of fellow screen idol Brad Pitt, according to the Vietnamese-language Phap Luat (Law) newspaper.
But Jolie said she worried that photographers would now chase her new son and said: "I want to say sorry for bringing this into Pax's life."
Jolie was pursued Thursday by the media as she took the boy from the orphanage to the adoption ceremony at the Ho Chi Minh City justice department, which publishes the Law newspaper.
In an interview with the paper, Jolie said Pax speaks no English and that "we have to learn to adapt to each other and study each other's languages."
"We will also pay regular visits to your country. To the best of my ability I want to understand more about your country, to see what I can do to help," added Jolie, a goodwill ambassador for the UN refugee agency.
The Academy Award-winning actress said she is not working on any movies at the moment and wants to concentrate on her family, which also includes five-year-old son Maddox, adopted from Cambodia, who was travelling with her.
Jolie and Pitt also have a two-year-old daughter, Zahara, who was adopted in Ethiopia, and a biological daughter, Shiloh, born last May in Namibia.
"I will stay at home to help Pax integrate into his new life," she said.
"I have four children, and caring for them is the most important thing for me right now. I am proud and happy to be their mother."
She said she had wanted to adopt children since she had been young because children "always need a warm shelter and a family," adding: "I have the ability to realise their wish, so why not?"
Jolie, who owns a house in neighbouring Cambodia, where she shot the movie "Laura Croft: Tomb Raider," also said she "feels at home" in Southeast Asia.
"During this trip I want to visit Ha Noi and hope to get a chance to take my children to the sea," she told the newspaper. "Many people have told me that Viet Nam has beautiful coasts."