PARIS, March 9, 2011 (AFP) - Embattled Libyan leader Moamer Kadhafi accused Western countries, especially France, of plotting to "colonise" his oil-rich nation, in an interview aired by France's LCI television channel Wednesday.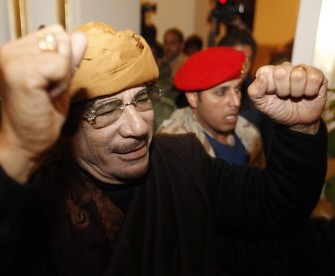 Moamer Kadhafi gestures as he arrives at the Rixos hotel in the capital Tripoli on March 8, 2011. AFP
When questioned on the stand taken by Western powers, and France in particular, Kadhafi said they "want to colonise Libya again", adding: "It's a colonialist plot."
Britain and France have made the most aggressive calls among Western powers for a no-fly zone to stop Kadhafi's troops attacking opposition forces staging a more than three-week-old rebellion.
The United States has said any such move would need to have full UN backing.
Paris has also praised the national council set up by the rebels.
Libya was annexed by Italy in 1912 after an Italian invasion of the north African country ostensibly to safeguard its interests.
When asked if he envisaged "reprisals" against France, Kadhafi replied: "We'll see".