Embattled Libyan leader Moamer Kadhafi is either in southern Tripoli or has already fled to the desert, his defected former prime minister Abdessalam Jalloud said here Thursday.
"He has only four people left around him. There are two possibilities: either he is hiding in the southern part of Tripoli or he left some time ago," Jalloud, who fled Tripoli and has been in Italy since Saturday, told a press conference.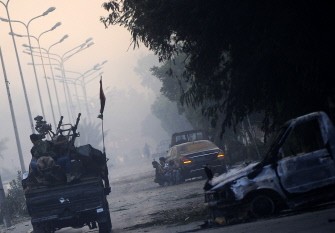 Rebel fighters patrol the streets in a neighborhood south of the capital Tripoli on August 25, 2011.
In the first scenario, Kadhafi will remain holed up in the south of Tripoli "until roads reopen and then he will emerge perhaps disguised as a woman or something else to leave" the capital, Jalloud said.
"The second possibility is that he already fled a while ago and is at the border with Algeria, either in Sirte or in Sabha, and he will then cross the desert," the ex-premier said.
Jalloud was Kadhafi's right-hand man in the 1970s and 1980s but had been increasingly distanced from politics starting in the 1990s following a reported fallout with his childhood friend.
On Sunday he said he believed it was too late for Kadhafi to strike a deal to leave power and he would likely be killed.