ZAGREB, Aug 23, 2011 (AFP) - Former Croatian President Stipe Mesic who has close ties Moamer Kadhafi said Tuesday that the Libyan leader told him he was ready to step down from political life if NATO ended airstrikes.
"I can confirm that colonel Kadhafi is ready to retreat completely from political and public life with a firm engagement that we would impede the setting up of a multi party system but on the condition that the NATO airstrikes cease," Mesic said in a statement quoted by Hina news agency.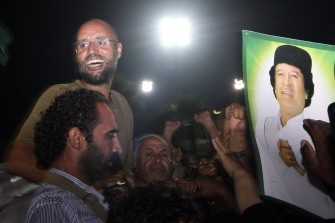 AFP- Saif al-Islam Kadhafi, son of Libyan leader Moamer Kadhafi (portrait), is surrounded by supporters and journalists at his father's residential complex in the capital Tripoli in the early hours of August 23, 2011
The former president added that he had a "personal verbal message" from Kadhafi last week with the offer and added he told the Chinese, Russian and American ambassadors to Croatia about it on Monday.
"The authorities in Tripoli have tried to get this message out via all the available channels to countries that have played a crucial role in the organisation and the operations in Libya," Mesic added in the statement.